Defense Carries CLU against Tigers
CLU defeats Colorado College 69-49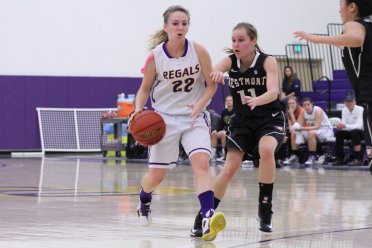 THOUSAND OAKS, Calif. – Cal Lutheran used a constant full-court press to force 30 turnovers against Colorado College and methodically defeated the Tigers 69-49 Thursday night in its home opener at Gilbert Arena. All 14 Regals on the roster played in the win and secured CLU's sixth victory in its last seven home openers. Offensively, the Regals were led by freshman Sofia Cruz who scored 18 points and dished out four assists.
The Regals capitalized on 16 Tiger turnovers in the first half, rushing out to a 41-25 lead. After a slow start, Cal Lutheran led by 10 midway through the half after Sam Hernandez sunk a jump-shot that made the score 19-9. The Regals would continue to pour it on, increasing its lead to 25-11 after Jessica Salottolo scored two of her 14 first half points. After Colorado College battled back to make it a 10 point deficit following a three-pointer, Haley Hodgson later hit a free-throw and Salottolo sunk two more to put CLU up by 16 headed into halftime.
Cal Lutheran went on an 11-4 to start the second half, boosted by three baskets by Cruz and lay-up from Natalie Stone. Later with just under 10 minutes to play, Hodgson again made a jump-shot that gave Cal Lutheran its largest lead of the half at 24, leading 57-33.
The Regals would close the game out as Gianna DiBacco, Pia Gudmundsen, Hayley Jensen, Trianna Owen and Lydia Snodderly all made their season debuts.
In addition to Cruz's 18 points, Salottolo was second with 16 off the bench. Hernandez was third with seven points while Taylor Messick scored seven and pulled in six rebounds. Stone had a team-high seven rebounds and four steals to go along with five points. Chelsea Jacoby had five to round out the scorers.
Colorado College was led by Danielle Davis who had 14 points and four rebounds.
Cal Lutheran (2-1) won't be back in action until Dec. 5 when it opens up Southern California Intercollegiate Athletic Conference (SCIAC) play on the road against Pomona-Pitzer. Tip-off in Rains Fitness Center is set for 7:30pm.
Box Score: CLU 69 CC 49
CLU Twitter: https://twitter.com/clusports
Follow Natalie: @RegalsHoops
CLU Facebook: https://www.facebook.com/clusports
Regals Facebook: https://www.facebook.com/cluwomensbasketball