Loggers Use Double Overtime to Advance to Sweet Sixteen
UPS wins 1-0 in Double Overtime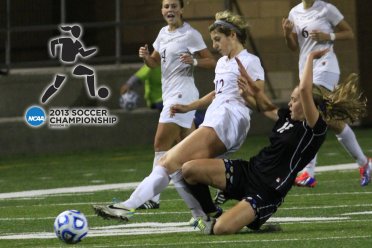 THOUSAND OAKS, Calif. – Puget Sound earned its second straight 1-0 double-overtime victory Sunday night, defeating Hardin-Simmons in the second round of the NCAA Tournament and advances to the Sweet Sixteen next weekend.
The first half was fitting of a second round game with both teams being evenly matched, compiling nearly identical stats. Puget Sound collected five shots in the opening half but never could generate a real-goal scoring chance. Hardin-Simmons had three shots on goal and with Taylor Thigpen coming up with the Cowgirls' scoring opportunity, launching a shot from 30-yards out but UPS goalkeeper Casey Thayer came up with the two-handed save.
The Cowgirls dominated the offense in the second half, out-shooting UPS 8-1. Hardin-Simmons had numerous chances on free-kicks and set pieces. The Cowgirls best chance came when Thigpen boomed in a free-kick from 45 yards out that Caitlin Cramer was able to head on goal but Lauren Thomas came up with the save.
After withstanding a barrage of HSU shots, Puget Sound had one final chance at a regulation game-winning when it earned a corner-kick in the 88th minute. Like the night before against Cal Lutheran, Jordyn McLuen bent in a sweeping corner that got banged around in front of the goal before Thigpen was able to clear it out and send the game into overtime.
Hardin-Smmons had two great scoring chances in the first overtime when Devon Howard and Cramer each fired shots on goal only to see them blocked at the last second.
At nearly the exact same time as Saturday's double-overtime goal was scored for UPS, Amelia Acorda-Fey broke loose in the Hardin-Simmons defensive side, collected her own rebound after a deflected shot, and again fired on goal, this time finding the back of the net for the golden goal. Acorda-Fey's goal came at 101:47 after the Loggers scored its winning goal at 101:07 the night before.
Acorda-Fey had six of UPS's eight shots with McLuen and Cassie Winter recording the others. Thayer played the first 45 minutes in goal and had two saves while Thomas played the rest of the game and had four stops.
Thigpen led HSU with six shots while Julianne Kucera and Vivian Wells had two each. Lexi Stinson had two saves in goal for the Cowgirls.
Both of Hardin-Simmons's (16-2-1) losses this year came against Puget Sound.
Puget Sound (17-2-2) advances to the Sweet Sixteen and will face No. 1 overall seed Washington –St. Louis next weekend.
Box Score: UPS 1 HSU 0 (2 OT)
Tournament Website: Tournament Central
Facebook: www.facebook.com/clusports