Divers Compete at Bulldog Invite
Four CLU divers take part in Bulldog Invite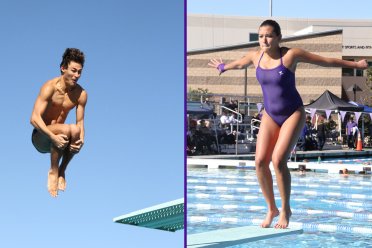 REDLANDS, Calif. – Cal Lutheran diver Ryan Brem had a strong day on the board Saturday to lead the Kingsmen at the Bulldog Invite, collecting season-high scores in both the one and three-meter dives. Sheyenne Machida and Tianna Pasko competed for the Regals at the meet with teams coming from all around Southern California.
A week after taking first place in the one-meter dive at the Malibu Invitational, Brem recorded a season-best total score of 213.40. Finishing fourth in the event, the junior's best individual dive was his fourth attempt where he received a score of 7.0, 7.0, 7.5, 7.5 and 6.5 from the judges. Brem also had a season-best score in the three-meter dive where he placed eighth. The Wailuku, HI native finished with a combined score of 210.15. Cal Lutheran's leading diver had some of the top scores through the first two dives averaging a 6.5 mark from the judges.
Also competing for the Kingsmen was Joey Zeisldorf. In just his second event as a Kingsmen, Zeisldorf took eighth in the three-meter and just missed out on a top-ten finish in the one-meter diver. Zeisldorf scored a 195.20 in the three-meter dive, just 1.3 points behind the seventh place finisher. In the shorter board competition, Zeisldorf had one of the best individual dive scores of the event, getting scores 8.5, 8.0, 8.0, 8.0 and near-perfect 9.0 from the judges on his second attempt.
On the women's side, Machida was CLU's top performer, coming in 12th in the one-meter and 14th in the three-meter dive. Machida was close to finishing in the top-ten of the competition, trailing the 10th finisher by just 2.25 points after recording a total score of 201.35. Her best individual dive came on her fifth try when she received scores of 7.0, 8.0, 8.5, 7.0, and 9.0. Machida recorded a top-15 finish in the three-meter dive competition, compiling a score of 181.90.
Joining Machida on Saturday for the Regals was Pasko, who took 24th in the one-meter and 26th in the three-meter dive. Pasko had a high mark of 6.0 during several attempts in the one-meter dive and then received two marks of 6.5 in the three-meter.
The Cal Lutheran swimming and diving teams will be back in action next weekend when they take part in the Finis Invitational in Santa Cruz. The meet begins on Friday, Nov. 22 and goes through Sunday, Nov. 24.
Results: Bulldog Invite
CLU Twitter: https://twitter.com/clusports
Follow Kelli: @kelli_clu_swim
CLU Facebook: https://www.facebook.com/clusports