Kingsmen Down Slugs in Season Opener
CLU wins on road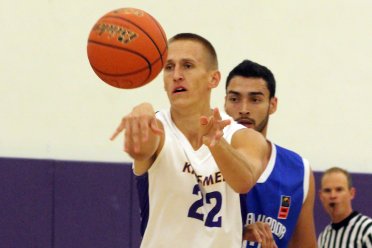 SANTA CRUZ, Calif. – Playing for the first time of the 2013-14 season, the Cal Lutheran men's basketball team found themselves at the Kaiser Permanente Arena, the home of the D-League Warriors, as part of the Hotel Paradox Opening Weekend Kickoff Tournament hosted by UC Santa Cruz. The Kingsmen began their campaign strong with a 66-55 victory over the Banana Slugs.
After seven ties and a back-and-forth battle through the first 13 minutes a Michael Palmer layup broke a 16-16 tie and the Kingsmen would never trail for the remainder of regulation. Jeremy Sulker-Hall followed with a jump shot of his own to give CLU a 20-16 lead and the half closed out with four unanswered points on baskets from Martin Flowers and Arik Smith to put the Violet and Gold ahead 33-27 at the intermission.
USCS came out of the locker rooms to score the first four points of the second stanza and pulled things to a single-point separation at 39-38 with 14:04 to play, but Flowers sparked a 13-2 run in which the junior forward contributed five points, including an and-one. Coltrane Powdrill also scored four points during that span. At the 5:25 mark Smith sank a pair of free-throws to give Cal Lutheran its largest lead of the game at 58-44.
Overall, CLU shot 42.9 percent from the floor while UCSC was limited to a 33.9 shooting percentage. Smith shared a game-high of 14 points with the Banana Slugs' James Townsend. Guy Lynott and Powdrill also reached double figures with 12 and 10 points apiece, respectively. Corey Quintana was responsible for the only three-pointer of the day for the Violet and Gold who struggled behind the arc as a team. With just six total assists in the game for the Kingsmen, both Lynott and Lanaki Apele handed out a pair.
On the glass, Lynott had 11 rebounds as the team tallied 44, outrebounding UC Santa Cruz by three. Smith led all players with both three blocks and three steals.
Joining Smith and Powdrill making his Cal Lutheran debut today was John Green who finished with two points and two rebounds.
UCSC was paced by Townsend scoring and rebounding, with seven, while Matthew Ponce chipped in with 11 points and Ilan Zur tallied two blocks.
Cal Lutheran (1-0) is back on the court on Wednesday, Nov. 20 when the Kingsmen host Bethesda Christian at 7:30 p.m. inside the Gilbert Arena.
Box Score: CLU 66, UCSC 55
CLU Twitter: https://twitter.com/clusports
Follow Collin: @CLUBasketball
CLU Facebook: https://www.facebook.com/clusports