Big Plays Boost CLU on Senior Night
CLU rolls past Whittier 47-10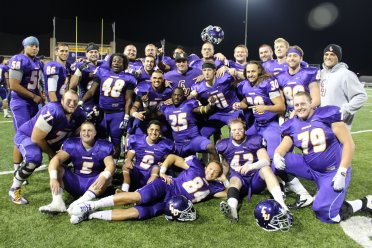 THOUSAND OAKS, Calif. – Making his first start under center for Cal Lutheran, sophomore quarterback David Rico led the Kingsmen to touchdowns on their first five drives before cruising to a 47-10 victory over Whittier Saturday night. Rico was 9-of-10 for 192 yards and two touchdowns while also rushing for 154 more. It was the first time a CLU quarterback passed and rushed for over 100 yards since Jake Laudenslayer did it against Chapman in 2011.
In total, the Kingsmen racked up 589 yards of total offense including 388 rushing and averaged over 10 yards per play.
The Kingsmen had only eight plays to Whittier's 29 in the first quarter but still lead 14-10. After Whittier scored on its opening possession, it took CLU just three plays to respond. On first down, Rico found Jacob Scott for a 19-yard gain. On the following play, Rico scrambled out of the pocket and raced all the way down the field for a 50-yard run. Ryan Zirbel punched it in from four yards out on the next play to tie the score at 7-7.
Following the touchdown, Whittier would drive down to the Cal Lutheran six-yard line before Nick Grodotzke tackled Anthony Walker in the backfield for a three-yard loss. On third down, Cal Lutheran forced an incompletion and held Whittier to a 26-yard field goal.
On the ensuing kickoff, Robert Burns had a return of 37 yards that got CLU out to midfield and Rico would lead the Kingsmen on their second consectuive three-play scoring drive. Brent Stevens caught a nine-yard pass on first down and then Daniel Azhocar picked up 10 more on the next play. Rico then found Wayne Chapman on a wheel-route down the sideline for a 37-yard touchdown pass.
Chris Cabrera picked off a TJ Jordan pass on Whittier's first possession of the second quarter and two plays later Rico hit a Justin Reeves for a 30-yard pass. One play later, Zirbel took the handoff around the outside and tip-toed down the sideline for a 15-yard touchdown and put CLU up 27-10.
The Kingsmen tacked on another touchdown just before the half when Rico had runs of 51 and 22 yards before setting up a one-yard touchdown run from Andrew Pankow.
Cal Lutheran got the ball to begin the second half and marched down the field on a six-play 64-yard scoring drive capped by a 34-yard touchdown run from Zirbel on a fourth and one.
Following a defensive stop thanks to a broken up pass on third down from Chris Miller, CLU scored its final touchdown of the game when Rico connected with Chapman for their second score of the game, this time on a 39-yard screen pass.
After allowing 10 points on its first two defensive series, the Kingsmen buckled down and allowed just 242 yards the rest of the game. CLU was led on defense by Grodotzke, who finished with 7.5 total tackles and one sack. Matthew Arve and Bryce Henderson were second with six each.
Offensively, Zirbel finished with seven carries for 78 yards and three touchdowns. Azhocar chipped in with 64 more and Michael Bocksnick made his season debut and rushed for 45 yards.
Chapman had a rushing touchdown and finished with 76 yards receiving. Reeves was second in receiving, totaling 39 yards while Alix Moise was second with 32.
Whittier was led by Diante Jackson who had seven catches for 168 yards and a touchdown.
Prior to the game, all 26 Cal Lutheran seniors and their families were honored. The group finished with three Southern California Intercollegiate Athletic Conference titles and appeared in three NCAA playoff games.
Cal Lutheran (3-4, 3-2 SCIAC) will be back in action next Saturday, Nov. 9 when it travels to San Dimas, Calif. to take on La Verne. Kickoff is set for 7:00pm.
Box Score: CLU 47 WC 10
CLU Twitter: https://twitter.com/clusports
Follow Chris: @ccab9luball and Coach Mac: @CLUCoachMac
CLU Facebook: https://www.facebook.com/clusports
Tumblr: http://clufootball.tumblr.com