Kingsmen Use Overtime to Down Leopards, Punch SCIAC Post Season Tournament Ticket
CLU advances for second time in school history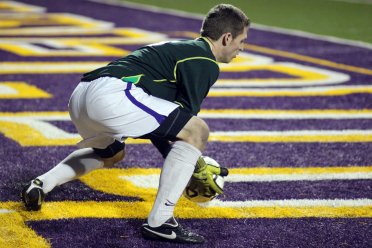 LA VERNE, Calif. – For the second time in school history the Cal Lutheran men's soccer team has punched a ticket to the Southern California Intercollegiate Athletic Conference (SCIAC) Post Season Tournament after finishing among the top teams in the league standings at the conclusion of the regular season. Tonight the Kingsmen needed overtime, but a 2-1 victory over La Verne allowed CLU to climb to fourth in the SCIAC standings and earn a spot.
"Champions find a way to win," head coach Dan Kuntz said. "We are looking forward to representing CLU in the SCIAC Post Season Tournament."
The 2013 team joins the 2007 squad that also played in the event.
One of the biggest reasons Cal Lutheran will have that chance is because of the stellar effort that Jack Duncan put forth tonight. The sophomore goalkeeper saved eight Leopards shots, with the biggest one coming in the 89th minute when he stopped a penalty kick to send the teams into extra time.
The first shot of OT came by way of Salvador Orozco, though it was blocked by a La Verne defender. Just over two minutes later, it was senior Kyle Fleming who was the difference maker, scoring in the 95th minute on an assist from Tyler Pascoe to give CLU the 2-1 victory and keep their season alive.
After a scoreless opening half Cal Lutheran struck first when Matt Hubbard scored a wide open goal in the 50th minute.
Unfortunately, nine minutes later at the 59:48 mark the Leopards equalized with a Martin Torres goal on an assist from Nathan Gonzalez. Neither team found the back of the net over the final 30 minutes, sending the teams into overtime.
Overall, CLU and ULV were evenly matched taking 19 and 22 shots, respectively, with 10 and nine on goal although La Verne held a 10-0 advantage in corner kicks tonight.
Claremont-Mudd-Scripps (14-5, 12-3-1 SCIAC) won the SCIAC title and locked up the No. 1 seed going into the SCIAC Post Season Tournament. Redlands, who is ineligible for post season activity, was second with a 12-4 league mark. Whittier placed third with a 10-5-1 record and will assume the No. 2 seed, followed by CLU who will be the No. 3 seed. Because of UR forfeiting their right to play beyond the regular season fifth place Chapman will earn a bid to play in the SCIAC Post Season Tournament on Wednesday, Nov. 6 as the No. 4 seed.
Cal Lutheran (11-6-2, 9-5-2 SCIAC) will travel to Whittier and Chapman will play at CMS. Both game times are yet to be determined.
Box Score: CLU 2, ULV 1 - OT
CLU Twitter: https://twitter.com/clusports
Follow Tal: @KingsmenSoccer1
CLU Facebook: https://www.facebook.com/clusports