Regals Run SCIAC Table in Perfect Season; Earn Fourth Straight Title
CLU undefeated in SCIAC play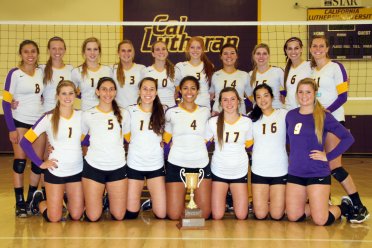 LA VERNE, Calif. – They have been Southern California Intercollegiate Athletic Conference (SCIAC) champions for almost a week, but tonight the Cal Lutheran volleyball team completed another goal they set out to achieve in August; the Regals ran the SCIAC table and went undefeated at 16-0 against league opponents with a 3-1 (22-25, 25-19, 25-15, 25-23) triumph over La Verne 3-1.
It was a special night for all involved as a perfect season has only been reached three other times in school history, though this is the first time in the 16-match era. The last team to earn an unbeaten league record was the 2012 squad that went 14-0.
"It is great to be undefeated, especially with two different groups of girls," senior four-time SCIAC championship team member Lauren Rohach shared after the match. "It just shows how strong our program has been and how much love and fight each girl has coming into this program."
Tonight's victory did not get off to the hottest start as CLU fell behind early dropping the first set, but went on to sweep the next three games to claim the victory. Just as they have done all season, everyone contributed.
"We came out with a lot more energy in the final three sets and we just started to play CLU volleyball and get in a rhythm" Rohach said. "We had everyone step up and get kills and blocks at crucial times that were momentum swings for us and that helped us out a lot when it was close."
Rohach had another consistent night for the Violet and Gold, finishing by hitting at a .467 clip with nine kills on 15 swings, adding five block assists. Kylie McLogan remains solid for the Regals, putting down a team-leading 18 kills, adding 13 digs with the only solo block of the night for CLU while also recording two of the six service aces for the team tonight.
More notably, it was the depth that was the difference maker.
"This team is prize fighters," head coach Kellee Roesel went on, "When someone is struggling they pick each other up; they are so balanced."
Off the bench tonight to provide that balance were Jena Chavez and Caitlin Fransen who tallied 15 assists and seven kills on ten swings without an error for a .700 hitting percentage, respectively.
Nicki Tetherow led the squad with 19 digs and Allie Eason added 11 as the third player in double figures.
La Verne (8-23, 5-11 SCIAC) was led by Brittany Yaxley who recorded a match-high 26 kills. Tiffany Mancuso tallied 42 assists for the Leopards. Morgan Donohue had 12 digs and and Ashlyn Cross chipped in with 11.
Cal Lutheran (28-1, 16-0 SCIAC) has earned the No. 1 seed and will host the 2013 SCIAC Post Season Tournament, which is set to be played on Thursday and Saturday, Nov. 7 and 9. Matches on Thursday will take place at 5:00 p.m. and 7:30 p.m. The first will feature No. 2 Pomona-Pitzer against No. 3 Claremont-Mudd-Scripps before CLU hosts No.4 Chapman, who earned a spot in the tournament after tying for fourth with Occidental, though the Tigers are not eligible for Post Season play due to NCAA sanctions.
Box Score: CLU 3, ULV 1
CLU Twitter: https://twitter.com/clusports
Follow Kylie: @k_mclogan and Pua: @puamookini
CLU Facebook: https://www.facebook.com/clusports