Skiba Wins SCIAC Crown; Regals Finish Third in Team Standings
CLU improves in league standings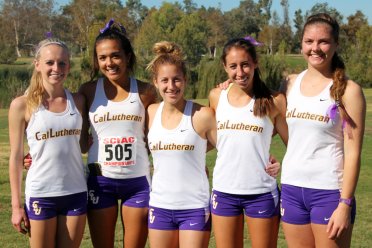 CHINO HILLS, Calif. – This morning at Prado Park senior Melissa Skiba became the second individual Southern California Intercollegiate Athletic Conference (SCIAC) women's cross country champion for Cal Lutheran as the Regals placed third as a team at the SCIAC Championship meet, placing three student-athletes on All-SCIAC teams in 2013.
Two weeks after winning her first SCIAC meet, Skiba repeated, this time taking home the 2013 title after pacing the field by running away with first place in a time of 23:02.80, outkicking the field by almost a full 20 seconds. She was also named the SCIAC Runner of the Year following the meet after accumulating just two points in league competition this fall. Skiba joins Heather Worden who won the event for CLU in 2004.
Second fastest for the Regals, also earning First Team All-SCIAC accolades, was Ashley Frese (23:56.21) with Natalie Bullock locking up a Second Team honor as the 20th runner across the line in 24:40.10. Although Taelor Young ran stride-for-stride with Bullock throughout the race she finished one spot out of All-SCIAC contention with a time of 24:42.32 in 21st. Both shaved time from last year, dropping 67 and 51 seconds, respectively.
The final scoring position for the Regals today came from Amanda Miller who took 30 seconds off her 2012 SCIAC Championship time to finish in 25:10.16.
In her final SCIAC race Jess Infald improved by an incredible mark, running almost two full minutes faster than she did a year ago to clock a time of 25:21.76.
Also racing in the Violet and Gold this morning were Sarah Parsons (25:35.37), Chantal White (26:40.59), Amy Falahat (29:00.16), Kathy Kirkeby (29:06.01), Kelsey Lewis (33:42.41) and Lauren Chrislu (36:12.66). Overall, the Regals ran well today from the start and showed solid improvements across the board.
As a team Cal Lutheran (78) defeated Pomona-Pitzer (92) after falling to the Sagehens by a point in the SCIAC Multi-Duals. They also finished ahead of Redlands (134), Whittier (179), Chapman (188), Caltech (218) and La Verne (224).
Claremont-Mudd-Scripps went undefeated to earn their fourth consecutive SCIAC team title with a meet-low 31 points. Second place went to Occidental (54) with CLU rounding out the top-three.
The top ten performers were named First Team All-SCIAC with finishers 11-20 earning Second Team All-SCIAC.
For the first time in league history the Celia Peterson Award was presented to a runner exemplifying great character and athletic ability as well as sportsmanship and efforts in both the classroom and community. The inaugural award went to Jenna Wong from Occidental.
Also presented at the meet was the Newcomer of the Year that was awarded to Occidental freshman Melina Devoney.
Cal Lutheran will send a team of seven to the NCAA Division III Women's Cross Country West Regional meet, which will be held on Saturday, Nov. 16 at Pomona-Pitzer. The women's race will begin at 11:45 a.m. following the men's race at 11:00 a.m.
Results: CLU – 3rd
CLU Twitter: https://twitter.com/clusports
Follow Amanda: @webringinXCback
CLU Facebook: https://www.facebook.com/clusports