Regals Win Fourth Straight SCIAC Title
Regals defeat Pomona-Pitzer 4-1 in regular season finale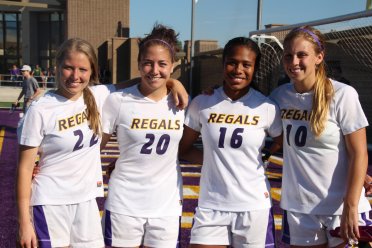 THOUSAND OAKS, Calif. – Four goals against Pomona-Pitzer meant four straight Southern California Intercollegiate Athletic Conference (SCIAC) titles for Cal Lutheran as it defeated the Sagehens 4-1 Saturday. The regular season finale win clinched the best overall record in the league for CLU and meant the four seniors honored before the game, Kristina Hulse, Stephanie Gilbert, Bailey Marquez and Anna Medler have all won a conference title every season they have played for CLU.
After trouncing Chapman 3-0 on Wednesday, the Regals picked up right where they left off, scoring two goals in the first half against the Sagehens.
In the 21st minute following a throw-in, Gilbert bent a in a perfect through ball past two Pomona-Pitzer defenders and found a wide-open Taylor Will. The junior forward then collected the ball and shaped a curving shot around the goalkeeper for the first goal of the game
Pomona-Pitzer had its best scoring chance of the first half ten minutes later when Allie Tao beat CLU goalkeeper Kristin Bailey to a loose ball in the corner and directed a rolling shot to the goal, but Medler cleared it just before it crossed the goal-line.
Cal Lutheran tacked on another goal just before halftime when Nicole Campbell poked a pass through a huddle of players to Hulse. The SCIAC's leading goal-scorer added to her season total when she took two dribbles and blasted in a shot that put CLU up 2-0.
After the Sagehens nearly scored in the first minute of the second half, Cal Lutheran responded with a counter-attack that saw Hulse punch through a pass into the Sagehen side of the field and then Will outraced a defender and sent her second goal of the game.
The Regals would concede a goal in the 61st minute when Nadia Alayian netted her first goal of the season but got it back 12 minutes later when Campbell won a scrum for the ball off a corner-kick and scored her third goal of the season.
Bailey finished with six saves while the defensive back line of Gilbert and Medler along with Chelsea Braudo, Mallory Carcich, and Yahaira Hernandez limited the Sagehens to just three shots in the first half.
Following the win, Cal Lutheran (16-4, 12-2 SCIAC) locks up the number one seed for the SCIAC's Post Season Tournament starting on Thursday, Nov. 7. The Regals will host the No. 4 seed at 7:00 p.m.
With the loss, Pomona-Pitzer falls to 13-3-1 overall and 11-3 in the SCIAC. The Sagehens will be the No. 2 Post Season Tournament and will host the No. 3 seed on Thursday as well.
The winners will play at the highest remaining seed's home field on Saturday, Nov. 9 with the time yet to be determined.
Box Score: CLU 4, PP 1
CLU Twitter: https://twitter.com/clusports
Follow Karly: @Karlyloberg00
CLU Facebook: https://www.facebook.com/clusports