Hulse Makes Grades, Named to CoSIDA Academic All-District Team
Senior successful in classroom, on soccer field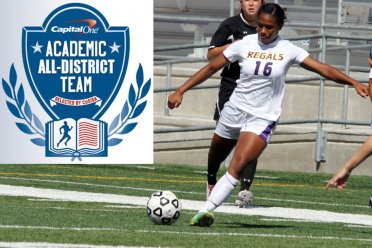 THOUSAND OAKS, Calif. – Today the 2013 Capital One Academic All-District® Women's Soccer Teams, selected by the College Sports Information Directors of America (CoSIDA), were released. The top student-athletes, including Cal Lutheran's Kristina Hulse, from the nation are recognized for a combination of athletic and academic success.
The Academic All-District® teams are divided into eight geographic districts across the United States and Canada. Criteria for nomination include holding better than a 3.30 cumulative GPA and playing a significant role on your team.
Earning one of the three forward spots for District VIII on the First Team was Hulse who has been a verbal and athletic leader-by-example on the field all season. She shared the NCAA Division III assists lead two weeks in a row earlier this fall. Hulse is currently leading the league with 13 goals, including five game-winners, and nine assists for 35 points. She was responsible for a scoring play in each of the first nine games this season and has contributed to the overall score in 15 of the 18 games with a goal and or an assist. Hulse has a pair of two goal games and has twice handed out two assists in a game. The senior has a .289 shooting percentage with a .667 shots on goal percentage as 30 of her 45 attempts have been on target.
Among her career accolades are a 2010 NSCAA All-West Region recognition, two Second Team All-SCIAC selections (2012, 2010) and three CLU records. She broke into the Top-10 for career assists this season and is currently tied for fourth with 23 and also became a Top-10 point scorer with 95 (36g, 23a). Hulse has her name on the single-season assists Top-10 list twice with eight in 2011 to hold a tie for ninth and nine this year, which leaves her locked in a seventh place tie.
In the classroom the Palmdale, Calif. native will graduate with a degree in Biology this spring. As a three-time CLU Scholar-Athlete Society inductee she is slated to earn the honor a fourth time this spring.
Hulse was the only athlete to represent the Southern California Intercollegiate Athletic Conference (SCIAC) on the District VIII team that consists of 11 players.
First Team Academic All-District® honorees advance to the Capital One Academic All-America® Team ballot, where first-, second- and third-team All-America honorees will be selected in November.
Capital One has been the entitlement rights holder to CoSIDA's Academic All-America teams programs since 2011.
Cal Lutheran (15-4, 11-2 SCIAC) is vying for their fourth consecutive SCIAC title, which will come down to the final day of the regular season when the Regals host the Sagehens from Pomona-Pitzer in a 1:00 p.m. tilt at Rolland Stadium.
Release: 2013 Capital One Academic All-District® Women's Soccer Teams
CLU Twitter: https://twitter.com/clusports
Follow Karly: @Karlyloberg00
CLU Facebook: https://www.facebook.com/clusports