CLU - Whittier Preview
CLU hosts final home game of the year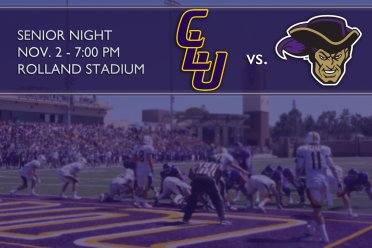 Game 7 for CLU: This Saturday, Nov. 2, Cal Lutheran Kingsmen (2-4, 2-2 SCIAC) take on the Poets of Whittier College (0-6, 0-4 SCIAC). Kickoff is set for 7:00 p.m. at Rolland Stadium with CLU's 26 seniors being honored before the game.
Series History: Saturday's meeting will be the 28th time the teams have met with Cal Lutheran holding a decisive 23-4 advantage in the series.
The two teams first met back in 1968 with Cal Lutheran coming away a 32-23 winner.
The Kingsmen have had particularly strong success against the Poets lately, outscoring them a combined 193-55 the last four meetings.
Whittier last topped Cal Lutheran in 2000, defeating the Kingsmen 52-24.
Last Meeting: Cal Lutheran and Whittier combined for 1,172 yards of total offense as the Kingsmen came away a 62-38 winner. CLU quarterback Zach Shultis had a dominant performance, completing 32-of-48 passes for 442 yards and five touchdowns.
The Kingsmen led 21-3 at the end of the first quarter before Whittier climbed back to make the halftime score 35-24.
However, the Poets would never get any closer than 11 points with Alix Moise (6-2, 238 lbs.) and Pablo Torres (5-9, 225 lbs.) each catching touchdown passes in the fourth quarter.
About Cal Lutheran: The Kingsmen enter Saturday's game after falling 44-34 to Occidental last weekend. Cal Lutheran actually outgained the Tigers in yardage 500-481 but had no answer for Occidental running back Kwame Do, who had 258 yards rushing and four touchdowns.
With Cameron Deen (6-4, 217 lbs.) sitting out a second straight game with an injury, CLU might have found its next star quarterback in David Rico (5-9, 165 lbs.) After Billy Livingston (6-1, 205 lbs.) threw for 112 yards and touchdown, Rico entered late in the third quarter and nearly engineered the CLU comeback. The sophomore led the Kingsmen offense on three scoring drives and finished with 101 yards passing and had 55 more rushing. Rico made a highlight-reel run midway through the fourth quarter when he was flushed out of the pocket, tip-toed down the sideline and juked two defenders before finding the end zone for a 21-yard touchdown.
Ryan Zirbel (5-8, 200 lbs.) had his second consecutive 100-yard rushing game and scored two touchdowns. Wayne Chapman (6-0, 205 lbs.) tacked on 95 more yards while Sean Bellotti caught his first touchdown and had 76 yards receiving.
John Perkins (6-1, 270 lbs.) and Randall Shumpert (5-10, 188 lbs.) tied for the team lead, each recording seven tackles against the Tigers.
About Whittier: The Poets enter Saturday's game looking for its first win of the year. Whittier is coming off a 49-46 five overtime loss to Claremont-Mudd-Scripps last weekend. Despite the winless record, the Poets possess one of the top offenses in the Southern California Intercollegiate Athletic Conference (SCIAC).
The Poets have used three different quarterbacks this season with TJ Jordan (6-1, 225 lbs.) leading the group by throwing for 1,037 yards and eight touchdowns and four interceptions. Running back Anthony Walker (5-10, 185 lbs.) is second in the SCIAC in rushing with 756 yards and seven touchdowns.
Wide receiver Diante Jackson (6-3, 215 lbs.) leads the conference in yards receiving (627), yards per game (104.5) and touchdowns (six).
While the offense has shined, the Poet defense has struggled to keep opponents off the scoreboard this season. Whittier is allowing 43.2 points per game but is second in the conference in sacks with 12. Trevor Phillips (6-0, 225 lbs.) is the top total tackler with 47 stops while Nathan Poole (6-3, 245 lbs.) leads the SCIAC with four sacks.
About the Coaches: Cal Lutheran Head Coach Ben McEnroe is in his seventh year at the helm of the Kingsmen football program, where he has compiled a 46-16 overall record. A former all-conference center for the Kingsmen, McEnroe joined his alma-mater 1993 as the offensive line coach. In 1998, he joined Division II Humboldt State, and in 2003, was named the head coach of Chaminade High School. After leading Chaminade to four straight CIF playoff appearances, McEnroe was named head coach of Cal Lutheran in 2006.
Since then, McEnroe has led Cal Lutheran to five conference titles in the past six seasons, including consecutive Southern California Intercollegiate Athletic Conference championships in 2009, 2010, 2011 and 2012.
Whittier Head Coach Todd Stratton is in his second season as head coach after being promoted to interim head coach in March of 2012 after serving as the team's offensive coordinator in 2011.
Stratton came to Whittier from Ventura College, where he was the offensive coordinator for one season.
Prior to that, Stratton spent a year as the head coach of Coronado High School in Las Vegas, Nev.
As a player, Stratton played three years at Southern Utah before becoming a graduate assistant at UNLV in 1988.
Coach McEnroe on Whittier: Facing the Poets, Cal Lutheran will again be searching for its identity. "Being inconsistent is the only thing we're being consistent at right now," McEnroe said. "If you watch the film," he continued "we had guys in a position to make big plays, plays that really decide the game, but a missed tackle or missed block did us in."
"The only thing we can do is go back to practice and work on doing those things better and more consistently."
A bright spot from the Occidental game was the emergence of Rico at quarterback. "The biggest thing I see from David is total confidence in himself; he doesn't stay down and while he plays with passion, it doesn't get in the way of execution."
I wasn't surprised he played well because of who he is and his personality. Like most our young guys, he's a work in progress but the team responds very positively to his leadership and style of play."
Whittier is in some ways like Cal Lutheran its inconsistency this season. "Their offense is loaded with talented players and their record would say that the Whittier defense is weak but statistically, their averages are good except for points against, which is really a team stat," McEnroe said.
"We have to score when we have opportunities and find ways to keep their offense in check. Whittier presents a real challenge."
3 Keys to Victory:
1. Be opportunistic.
2. Limit big plays, force them to drive the field.
3. Be more physical than ever.

CLU Twitter: https://twitter.com/clusports
Follow Chris: @ccab9luball and Coach Mac: @CLUCoachMac
CLU Facebook: https://www.facebook.com/clusports
Tumblr: http://clufootball.tumblr.com