Kingsmen Cruise By Beavers
CLU adds to win tally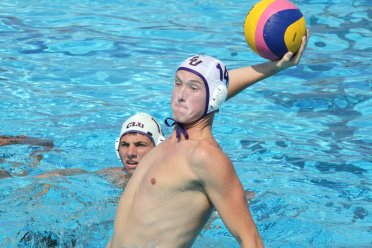 PASADENA, Calif. – On the road in Southern California Intercollegiate Athletic Conference (SCIAC) action today Cal Lutheran cruised to a 16-5 victory over Caltech behind goals from a dozen different players.
CLU opened a 6-1 first quarter advantage and never looked back as the Kingsmen allowed just one goal in each of the first three quarters, surrendering a pair in the final frame.
With a hat-trick AJ Franklin led all players with three goals while Taylor McMaster handed out a game-high four assists. Both Adam Lee and Spencer McGrath netted a pair with Lee's marking the first collegiate goals of his career. Also adding goals today were Zack Card, Shea Craig, Jase Emery, Tyler Graper, Camron Hauer, Cameron Knudsen, Nathan Ortega, Ben Russell and David Sparks. Knudsen was also responsible for two assists and drew one of the two CLU ejections in the game with Max Zappas notching the other.
Defensively, both Ortega and Mike Arteaga had field blocks and Knudsen shared the team-lead with three steals. A quartet of players, Arteaga, Craig, Graper and Ortega, had two steals apiece. Jesse Owen started the game, but Zach Loza took over manning the cage for the final three frames. He came away with three steals and saved six Beavers shots.
Caltech got two goals apiece from Jim Blackwood and Patric Eck.
Cal Lutheran (10-14, 2-3 SCIAC) will be on the road again on Saturday when the Kingsmen travel to Redlands for an 11:00 a.m. tilt with the Bulldogs.
Box Score: CLU 16, CIT 5
CLU Twitter: https://twitter.com/clusports
Follow David: @D_Sparks2
CLU Facebook: https://www.facebook.com/clusports