McLogan Breaks Career Kills Mark in Win Over Chapman; CLU Secures SCIAC Title
CLU earns outright SCIAC title with five-set victory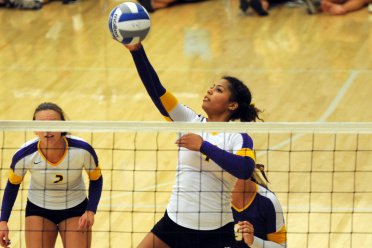 ORANGE, Calif. – It was a memorable night for the No. 3 Cal Lutheran Regals for a number of reasons. As they began the final week of Southern California Intercollegiate Athletic Conference (SCIAC) action they traveled to Chapman where the Regals not only defeated the Panthers, winning 25-13, 17-25, 24-26, 25-21, 15-5 with their backs against the wall to remain undefeated in league play, but also earned the outright SCIAC title on a kill from the new CLU career record holder Kylie McLogan.
After a dominating first set the Panthers found a rhythm and gave the Regals a run for their money. A combination of timely time outs and a deep bench allowed CLU to ultimately bond together to do what they have been training to do, battle in the heat of the competition to churn out another victory.
"We played unstoppable in the first set," head coach Kellee Roesel shared. "In the second we had energy early, but our serve receive struggled. As the third set got going the serve receive got better and we won the momentum back. Our ball control was good and we were doing a great job defensively and serving well. Being confident with our ball control, something we work on every day, ultimately allowed our team to go out into the fifth set confident and hey played well and did everything right."
With a number of contributors tonight, it was McLogan who stole the show as she recorded 21 kills with four aces, a block assist and 18 digs. On her final swing of the evening McLogan surpassed the former Cal Lutheran record mark of 1,221 kills (Allison Kerr 2007-10) to take over the top spot at 1,222.
As a coach who has had an opportunity to see and mold numerous top-caliber athletes, Roesel was amazed at the accomplishment.
"There is nothing more special and I could not be more proud of her. Kylie is as complete of a player as we have ever had – she is physical, works hard and we want the ball to go to her in tough spots and tonight she came through. It is impressive that she reached that mark in less than three full seasons because the ball is not always being set to her."
McLogan clearly believes in herself and her teammates and has done a fantastic job all season and throughout her career.
"I think the team did an amazing job sticking together tonight," she shared after the match. "We were determined to take the conference undefeated and we were willing to do anything to hold onto that," she concluded, "I am so proud of my team and I love those girls."
That camaraderie is what has led the Regals to so much success and cohesion as a unit all season long.
Tonight CLU took a 3-0 advantage in the opening set with Allie Eason collecting the first kill and Pua Mo'okini-Oliveira tallying the final point, but it was an incredible showing from McLoganthat highlighted the set as she served on 12 straight CLU points, recording three consecutive service aces for 10, 11 and 12 point leads while adding a back row kill during that run. Throughout the game Nicki Tetherow made key digs as the libero to set up the Regals offense. Chapman was held to a .087 hitting percentage as they recorded just five kills as a team.
In the second set CU opened a 4-1 lead early and earned a 25-17 victory. The first CLU lead of the game came when Jackie Russell served and McLogan finished the play with a kill to put the Regals up 11-10, sparking a 3-0 run to briefly eliminate the deficit. Trailing 20-15 CLU got a late surge on back-to-back blocks by Eason and Lauren Rohach followed by Mo'okini-Oliveira and Rohach with Tamagni serving, but a final push by the Panthers was too much for CLU to overcome.
Chapman led for a majority of the third game and a spark down the stretch fell short for Cal Lutheran, but not without the Regals regaining a rhythm. At 18-14 McLogan put down a kill and followed by notching a block assist with Tamagni, but the momentum never fully shifted to the CLU side at that point. Down 20-15 CLU used a timeout and again McLogan led the Violet and Gold on a comeback effort. At 22-19 she got a kill followed by service ace and another CLU point on serve forcing CU to take a timeout. After tying things at 22-22 the teams would be knotted again at 23-23, 24-24 before Chapman got back-to-back kills to end another comeback effort; though the Regals re-found the momentum they opened the night with.
Tied seven times in the fourth, it was the CLU defense and errors by the Panthers that ultimately led to the Cal Lutheran victory. At 8-8 the teams combined for the longest rally of the night, which went to the Panthers, but CLU came back to again tie things at 9-9 on a Jena Chavez kill. Eason followed up with a service ace and Caitlin Fransen put down a pair with Monica Lundgren also contributing a kill for some life off the bench. The duo combined for a block and the team bound together to battle and stay in the game. When Fransen and Rohach recorded a block, they gave CLU a 19-18 lead and the Regals never trailed for the remainder of the set.
The fifth and final game was controlled by Cal Lutheran from the start as the Violet and Gold never looked back, cruising to a 15-5 win, capped off by the historic McLogan kill. CLU held Chapman to a negative (-.48) hitting percentage in the set.
Joining McLogan in double figure kills tonight was Eason with 18. Rohach added seven and led the Regals with six block assists as CLU combined for 22. Eason, Fransen and Tamagni had four block assists apiece tonight. Tetherow led the team with 21 digs. Eason also had a trio of service aces while Kennedy Peters contributed two.
Chapman (17-9, 10-4 SCIAC) was led by Val Geiger with 20 kills while Michelle Hammer had 12. Geiger added the only solo block of the night as CU finished with just 3.0 total blocks. Andi Frisina led the Panthers with 22 digs as one of four players in double figures and had a match-high six aces.
Cal Lutheran (26-1, 14-0 SCIAC) returns to the Gilbert Arena for the final regular season match on Friday, Nov. 1 against Caltech. The Regals will honor a senior class of four prior to first serve.
Box Score: CLU 3, CU 2
CLU Twitter: https://twitter.com/clusports
Follow Kylie: @k_mclogan and Pua: @puamookini
CLU Facebook: https://www.facebook.com/clusports