Kingsmen Stifled by Bulldogs on Senior Day
CLU concludes regular season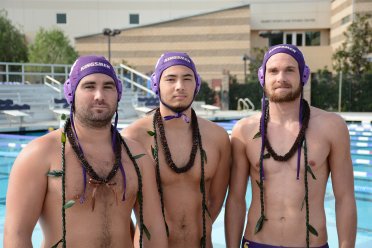 THOUSAND OAKS, Calif. – On Saturday the Cal Lutheran men's water polo team celebrated Senior Day as they took on Redlands in a Southern California Intercollegiate Athletic Conference (SCIAC) contest at home. The Kingsmen jumped out to an early lead but fell to the Bulldogs 13-9.
Prior to the contest, Zack Card, Ben Russell, and Camron Hauer were recognized for Senior Day and for their commitment to the men's water polo program and the Department of Athletics over the past four years.
Cal Lutheran came out with heavy offensive pressure, and jumped to an early 2-0 lead through the first three minutes behind goals from Chris Gardhouse and Card. Taggart Diehl added another shortly after as the Kingsmen headed into the second quarter with a slim one goal lead.
Both teams continued to push on offense, Cal Lutheran added two more in the second with goals from Davy Thomas and Diehl and went into halftime down 6-5. The Kingsmen offense continued to create opportunities but came up just short, 13-9. George French and Hauer also each contributed a goal for CLU.
Nick Loomis was in the cage for the Kingsmen and notched 13 saves on the day.
Cal Lutheran (10-12, 2-6 SCIAC) will head to Pasadena to compete in the SCIAC Championships on Nov. 18-19, hosted by Caltech.
Box Score: UR 13, CLU 9
CLU Instagram: http://instagram.com/clusports#
CLU Twitter: https://twitter.com/clusports
CLU Facebook: https://www.facebook.com/clusports