Panthers Claw Past Kingsmen
Strong second half propels Chapman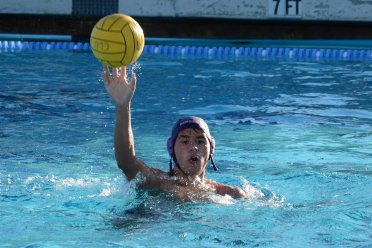 THOUSAND OAKS, Calif. – The Cal Lutheran men's water polo team continued Southern California Intercollegiate Athletic Conference (SCIAC) competition on Saturday with a home match against Chapman, falling 10-6.

Chapman took an early lead but the Kingsmen went on a 3-0 run with goals behind Chris Gardhouse and Taggart Diehl to hold a one goal advantage over Chapman at the conclusion of the first quarter. Chapman retaliated quickly, scoring three in the second quarter, while the Kingsmen added one from George Lundgren. Chapman headed into halftime with a slim 5-4 lead.
The Chapman offense continued to pressure, adding two more goals to end the third quarter with a 7-4 lead. Jeff O'Brien led the Panthers with four goals. Matt Fong and Diehl each scored in the final quarter to push the Kingsmen total up to six but Chapman added three to take the victory 10-6.
Nick Loomis notched 11 saves and four steals on the day while Gardhouse contributed three steals for the Violet and Gold.
Cal Lutheran (10-11, 2-5 SCIAC) will return to the Samuelson Aquatics Center on Saturday, Nov. 12 at 11 a.m. for a Senior Day home game against Redlands. Prior to the game, Zack Card, Ben Russell, and Camron Hauer will be recognized for their contributions to their team and CLU Athletics.
Box Score: CU 10, CLU 6
CLU Instagram: http://instagram.com/clusports#
CLU Twitter: https://twitter.com/clusports
CLU Facebook: https://www.facebook.com/clusports