Sagehens Pull Past Kingsmen Late
Gardhouse grabs four steals to lead CLU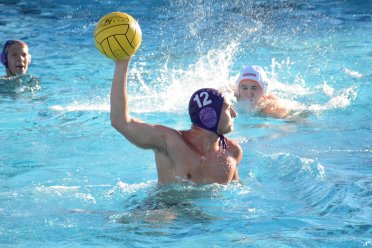 THOUSAND OAKS, Calif. – Squaring off against a first-place and undefeated Pomona-Pitzer squad, the Cal Lutheran men's water polo team fought hard early on before a big second half propelled the Sagehens to a 10-5 victory at Samuelson Aquatics Center on Wednesday evening.
After a 2-0 first quarter from Pomona-Pitzer, Ben Russell got the Kingsmen on the board with a goal to start the second frame. The Sagehens would only tack on one more before the half as both teams battled defensively. In the third period, however, Pomona-Pitzer scored five unanswered goals to take a commanding 8-1 lead. Chris Gardhouse, Taggart Diehl and George French added goals down the stretch for CLU but the deficit was too much to overcome.
Gardhouse and Davey Thomas finished with three drawn ejections apiece to lead the team and Gardhouse was a force on defense with four steals. French finished with three steals while Thomas and Russell each had two. Nick Loomis recorded 10 saves in goal for the Kingsmen.
Pomona-Pitzer was led by two goals each from Tommy Turner and Riley Mangan.
Cal Lutheran (10-10, 2-4 SCIAC) continues conference action at home this Saturday, Nov. 5 against Chapman at 11:00 a.m. inside the Samuelson Aquatics Center.
Results: PP 10, CLU 5
CLU Instagram: http://instagram.com/clusports#
CLU Twitter: https://twitter.com/clusports
CLU Facebook: https://www.facebook.com/clusports