Kingsmen Power Past Beavers
Diehl scores four goals for CLU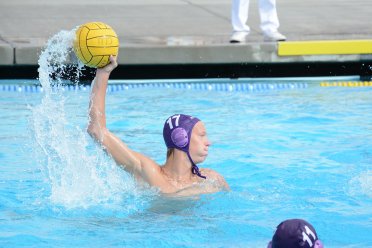 THOUSAND OAKS, Calif. – On Saturday the Cal Lutheran men's water polo team returned to the Samuelson Aquatics Center to take on Caltech in a Southern California Intercollegiate Athletic Conference (SCIAC) match, coming out on top 18-6.
The Kingsmen struck early when Camron Hauer fired a shot past the goalkeeper in the first minute of the game, giving CLU the early lead. Cal Lutheran would continue to create opportunities on offense, finishing the quarter with a 5-0 lead behind goals from Mats Albins, Chris Gardhouse, and Hauer.
Caltech found the back of the net twice in the second quarter to retaliate but the Kingsmen would add five more to their tally with goals from Taggart Diehl, Kevin Oetken, and George Lundgren to head into halftime up 10-2.


Davy Thomas opened up the second half with an early goal, to push the lead to 11-2. Cal Lutheran would score five more times in the third period to head into the final quarter up 16-2.
The Beavers scored four in the fourth quarter, but Matt Paxton and Seth Hightower each scored one apiece to add two more for Cal Lutheran, to finish with the 18-6 victory. Nick Loomis recorded seven saves on the day for CLU.
Cal Lutheran (10-9, 2-3 SCIAC) will continue conference play on Wednesday, Nov. 2 as they face off against Pomona-Pitzer at 4:00 p.m. inside the Samuelson Aquatics Center.
Box Score: CLU 18, CIT 6
CLU Instagram: http://instagram.com/clusports#
CLU Twitter: https://twitter.com/clusports
CLU Facebook: https://www.facebook.com/clusports