Poets Push Past Kingsmen
CLU plays fourth straight road match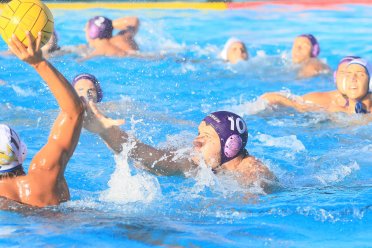 WHITTIER, Calif. – In another Southern California Intercollegiate Athletic Conference (SCIAC) road match on Wednesday afternoon, the Cal Lutheran men's water polo team went up against a tough Whittier squad and fell 16-8 at the Lillian Slade Aquatics Center.
The Poets jumped out of the gate taking a 4-2 lead at the end of the first quarter and extended it to 8-4 at the end of the first half. A big third quarter, where Whittier outscored the Kingsmen 6-2, put the game out of reach.
Offensive Highlights: Chris Gardhouse led the way once again for CLU with four goals while Camron Hauer had two and Zack Card and Taggart Diehl added one apiece. Card and Hauer each dished out a team-high two assists. Gardhouse and Hauer also drew two ejections to lead the team.
Defensive Highlights: Nick Loomis finished the game with eight saves in the cage while adding two steals along with George French who had one. Gardhouse also came away with two field blocks while Card finished with one.
Cal Lutheran (9-9, 1-3 SCIAC) will compete in its first home SCIAC contest this Saturday, Oct. 29 at 11:00 a.m. against Caltech.
Results: WC 16, CLU 8 – Box Score unavailable at time of release
CLU Instagram: http://instagram.com/clusports#
CLU Twitter: https://twitter.com/clusports
CLU Facebook: https://www.facebook.com/clusports