Kingsmen Fall Short Against Stags
Six different players score for CLU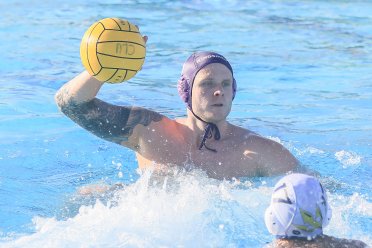 CLAREMONT, Calif. – The Cal Lutheran men's water polo team continued Southern California Intercollegiate Athletic Conference (SCIAC) play on Saturday in an away match at Claremont-Mudd-Scripps.The Stags came away with the narrow 10-7 victory over the Kingsmen.
Cal Lutheran scored twice in the opening quarter, while Claremont-Mudd-Scripps scored three times, finishing the first quarter with a slim one goal advantage. The Kingsmen would continue to fight, finding the back of the net once in the second quarter and twice in each of the remaining quarters to finish with seven. Cal Lutheran had 21 shots total, while the Stags finished with 35.
Offensive Highlights: Mats Albins led the CLU offense with two goals on the day, while also tallying an assist. Davey Thomas, Chris Gardhouse, George French, Ben Russel, and Zack Card each scored in the game.
Defensive Highlights: Cal Lutheran finished with ten steals total, Gardhouse led the team with three. Nick Loomis finished with 12 saves, bringing his SCIAC total up to 43 through the first three games.
The Opponent: Ellison Taylor, Zack Rossman, Noah Deer, Ethan Lewis, and Alex Waggoner each put away two goals for the Stags offense, to finish with 10 total. Rye Newman was in goal and finished with 10 saves.

Cal Lutheran (9-8, 1-2 SCIAC) will be back in action on Wednesday, Oct. 26 at 4:00 p.m. for an away SCIAC match against Whittier.
Box Score: CMS 10, CLU 7
CLU Instagram: http://instagram.com/clusports#
CLU Twitter: https://twitter.com/clusports
CLU Facebook: https://www.facebook.com/clusports