Kingsmen Edged by Leopards
CLU falls 14-12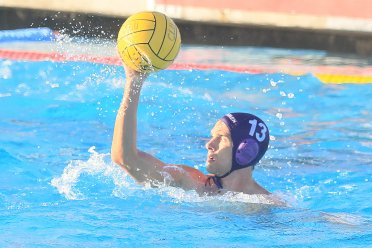 LA VERNE, Calif. – In the first Southern California Intercollegiate Athletic Conference (SCIAC) road matchup of the year for the Cal Lutheran men's water polo team, the Kingsmen took an early lead before a big second half gave La Verne a narrow 14-12 victory on Wednesday evening.
The Kingsmen jumped out to a 5-2 lead after the first quarter, fueled by a pair of goals from Taggart Diehl. The Leopards put up a five spot of their own in the second to tie the game at 7-7 at the break. In the third quarter, however, it was all La Verne as they scored five more goals to take a convincing lead and secure the win.
Offensive Highlights: Chris Gardhouse finished with four goals to lead the Kignsmen while Diehl added three. After a big seven-goal game to open conference play, Zack Card contributed two more to his tally. Camron Hauer, George French and George Lundgren also scored in the game. Lundgren and Seth Hightower led the team with two assists apiece and Gardhouse picked up three drawn ejections.
Defensive Highlights: The Cal Lutheran defense totaled six steals in the game and Nick Loomis came away with 14 saves, giving him 32 in just two SCIAC matches thus far.
The Opponent: The Leopards were led by six goals from Rey Castillo, including three in a big third quarter for La Verne. Jared Hopley and Rex Sample also had multi-goal games for the Leopards.
Cal Lutheran (9-7, 1-1 SCIAC) continues SCIAC road action against Claremont-Mudd-Scripps this Saturday, Oct. 22 at 11:00 a.m.
Results: LV 14, CLU 12
CLU Instagram: http://instagram.com/clusports#
CLU Twitter: https://twitter.com/clusports
CLU Facebook: https://www.facebook.com/clusports