CLU Takes Down Tigers in SCIAC Opener
Card leads the way with seven goals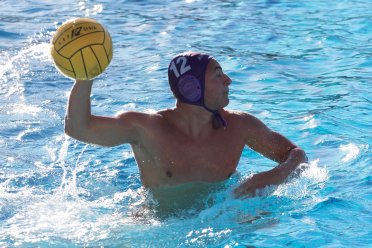 LOS ANGELES, Calif. - The Cal Lutheran men's water polo team began Southern California Intercollegiate Athletic Conference (SCIAC) action in thrilling fashion on Saturday night with a 12-10, double-overtime, victory against Occidental at Taylor Pool.
A high-scoring first quarter saw the Kingsmen take a 5-4 lead behind two goals from Chris Gardhouse and a big second quarter, featuring two goals from Zack Card, made it an 8-8 game at the half. The defensive intensity ramped up in the second half with both teams scoring just one goal apiece to head to overtime. Occidental added one in the first overtime period, but CLU came through in a big way with three goals, all from Card, to win the game in the second overtime.
Offensive Highlights: Card finished with a game-high seven goals while Gardhouse added two to go along with eight drawn exclusions and an assist. Mats Albins, Ben Russell and Camron Hauer also scored for the Violet and Gold and George French helped facilitate the offense with a team-high three assists.
Defensive Highlights: Nick Loomis tallied a season-high 18 saves in front of the cage to go with two steals and Gardhouse led the team with three steals. Card, Russell and George Lundgren each added a field block.
Next Up: Cal Lutheran (9-6, 1-0 SCIAC) continue conference play on the road against La Verne this Wednesday, Oct. 19 at 4:00 p.m.
Box Score: CLU 12, OXY 10 (2OT)
CLU Instagram: http://instagram.com/clusports#
CLU Twitter: https://twitter.com/clusports
CLU Facebook: https://www.facebook.com/clusports