Kingsmen Challenge Royals
CLU falls to HIU 3-1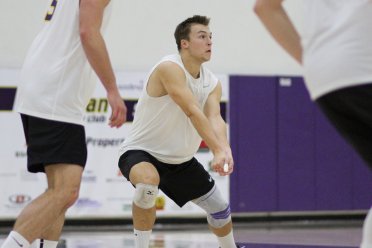 FULLERTON, Calif. – The Cal Lutheran men's volleyball team took on Hope International on Tuesday evening and battled the Royals before falling 3-1 (25-17, 25-21, 23-25, 25-20) at Darling Pavilion.
In the first set, HIU used a strong .471 hitting percentage with just one error to take the set 25-17 after jumping out to an early lead. In the second, the Kingsmen trailed 7-5 early before an 8-3 spurt from the Royals helped them pull away and take a 2-0 set lead.
CLU rallied in the third set for a narrow 25-23 victory to stay alive. Back-to-back kills from Patrick Rowe and Mason Mercer opened the scoring for the Violet and Gold, who later found themselves tied with HIU at 20-20. Down the stretch, Michael Campbell came up with a pair of critical kills, including the game-winner.
Despite hitting .393 as a team in the fourth set, the Kingsmen fell behind early to the Royals and dropped the set 25-20.
Rowe tied for game-high honors with 17 kills while adding 14 digs for a monster double-double. Mercer set a new career-high with 14 kills and Mikey Esper finished with eight. Nick Shoemate also tallied a career-high with 49 assists while Jamal Balkhi notched double-figures with 11 digs.
The Royals were led by 17 kills apiece from Zach Greene and Kevin Baran-Maguire.

Cal Lutheran (5-15) returns home for its next match against Concordia-Irvine on Wednesday, Mar. 29 at 7:00 p.m. inside Gilbert Arena.
Box Score: HIU 3, CLU 1
Tournament Central: Second Annual Cal Lu Fornia Invitational
CLU Instagram: http://instagram.com/clusports#
M Volleyball Instagram: https://instagram.com/kingsmen_volleyball/
CLU Twitter: https://twitter.com/clusports
M Volleyball Twitter: https://twitter.com/CLUmVolleyball
CLU Facebook: https://www.facebook.com/clusports