Red Hot Crusaders Sweep Kingsmen
CLU falls to NAIA No. 10 Clarke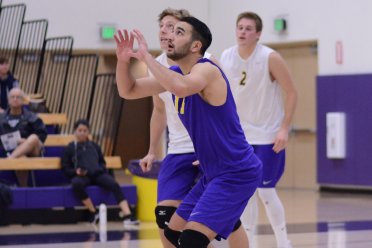 THOUSAND OAKS, Calif. – After nearly three weeks away from home, the Cal Lutheran men's volleyball team returned to Gilbert Arena where they squared off against NAIA No. 10 Clarke (Iowa) on Monday night. Winners of 12 straight matches, the Crusaders stayed hot with a 3-0 (25-19, 25-23, 25-16) sweep over the Kingsmen.
Clarke raced out to an early 10-5 lead in the first set until the Kingsmen rallied for four unanswered points, highlighted by a Nick Shoemate kill and a service ace from Nick Oertli. Both teams went back-and-forth in the middle of the set and found themselves knotted up at 18 apiece. From there, the Crusaders scored five straight points to take a commanding lead and closed the set on a 7-1 run to close out CLU 25-19. Clark outhit the Kingsmen .273 to .038 in the opening game and the Violet and Gold were plagued by four service errors in the set.
Justin Dietrich was instrumental in the second set for CLU, slamming down a kill to put the Kingsmen on the board early and came through with a handful of critical plays. Trailing 12-7, Dietrich converted back-to-back kills to help CLU inch closer to the Crusaders. Moments later, still down 18-13, the Kingsmen went on a 7-2 run, and tied the match at 20-20 on a Patrick Rowe service ace. Once again in a late set situation, Clarke was able to pull it out down the stretch with a 5-3 run to take a 2-0 lead.
In the third and final set, with the score at 10-9, the Crusaders put together a streak of seven unanswered points to put the game and match out of reach. Overall, Clarke finished with a .346 hitting percentage while the Kingsmen hit just .167.
Dietrich paced the Kingsmen on the offensive end with 12 kills while also providing a team-high five total blocks. Mason Mercer tallied eight kills in the match and Jamal Balkhi led the team with five digs. Shoemate and Grant Nelson shared the setting duties with 15 and 10 assists, respectively.
The Crusaders were led by 12 kills from Isaiah Acfalle and Tim Doughney, who also reached double figures with 10 kills. Matt DePauw handed out a game-high 38 assists and Matt Gagner finished with six total blocks.

Cal Lutheran (3-13) is back in action this Friday, Mar. 10 when it hosts the Second Annual Cal Lu Fornia Invitational. The Kingsmen kick off the tournament with a match against Benedictine-Mesa (Ariz.) at 1:00 p.m. inside Gilbert Arena.
Box Score: CU 3, CLU 0
CLU Instagram: http://instagram.com/clusports#
M Volleyball Instagram: https://instagram.com/kingsmen_volleyball/
CLU Twitter: https://twitter.com/clusports
M Volleyball Twitter: https://twitter.com/CLUmVolleyball
CLU Facebook: https://www.facebook.com/clusports