Kingsmen Travel to Arizona
CLU falls after long travel day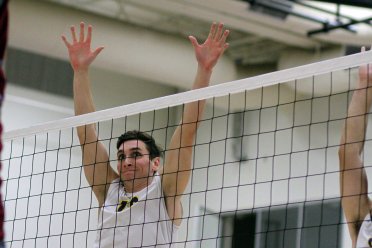 PHOENIX, Ariz. – The severe storms that hit Southern California this weekend altered the Cal Lutheran men's volleyball trip to Arizona. Forced to travel on game day after being rerouted through a different airport, the Kingsmen were able to salvage one of two scheduled matches in Arizona, but Grand Canyon University proved to be too much for visiting CLU as the team fell 3-0 (25-16, 25-14, 25-20) on Saturday evening.
Offensive Highlights: On a dismal hitting night in which Cal Lutheran hit .000, Nick Oertli was the most accurate player with two kills on four swings in just one set of action. Patrick Rowe led the way with eight kills and Michael Campbell added six. Splitting time as the setter, Grant Nelson came off the bench to hand out 14 assists while starter Nick Shoemate finished with nine. The lone service ace of the night came from Justin Dietrich.
Defensive Highlights: CLU recorded just 20 total digs with Jamal Balkhi tallying five and Christian Gallardo notching four. Campbell came up with the only solo block of the night on either side and added three block assists to aid the defensive unit.
The Opponent: Grand Canyon University hit .398 as a team and looked to Matthew Kinnebrew for a match-high 21 kills. Puna Kaniho paced all players with 23 assists and Cullen Mosher put down a pair of service aces.
Cal Lutheran (2-9) travels interstate again this weekend as the Kingsmen head to the Wittenberg Tournament from Feb. 24-25 to play four matches against some of the top Division III programs in the country.
Box Score: GCU 3, CLU 0
CLU Instagram: http://instagram.com/clusports#
M Volleyball Instagram: http://instagram.com/kingsmen_volleyball/
CLU Twitter: https://twitter.com/clusports
M Volleyball Twitter: https://twitter.com/CLUmVolleyball
CLU Facebook: https://www.facebook.com/clusports
Hashtags: #clusports #ownthethrone #gokingsmen