Banana Slugs Sweep Past Kingsmen
Gallardo leads CLU with 11 kills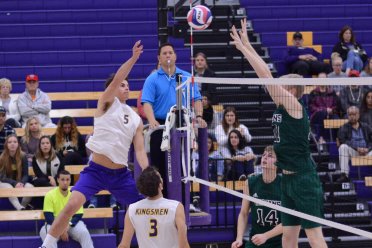 THOUSAND OAKS, Calif. – After two consecutive victories, the Cal Lutheran men's volleyball team could not make it a third after running into No. 4 UC Santa Cruz on Saturday night and falling 3-0 (25-19, 25-19, 25-22) at the hands of the Banana Slugs inside Gilbert Arena.
UC Santa Cruz came out hot in the first set, tallying 14 kills with a .500 hitting percentage to set the tone of the match. The Banana Slugs took the first two points of the set before Michael Campbell and Mikey Esper combined for three kills in a row to put CLU ahead. As both teams traded points, Kristian Gallardo stepped up in a big way for the Kingsmen with six kills in the first set alone. The Violet and Gold found themselves within one point, 17-16, however UCSC put together an 8-3 run down the stretch to take the set, 25-19, and with it an early lead.

The second set was even closer than the first, featuring 13 ties and five lead changes. Gallardo continued his strong play with four more kills in the set while Nicholas Oertli also supplied four kills in the frame. Once again both teams would seemingly trade point for point until the score was tied 17-17. Following the script from the first set, the Banana Slugs went on an 8-2 run to close out the set, 25-19, and take a 2-0 lead.
The third set featured just one lead change early on before UCSC held onto a slight advantage for much of the set. Patrick Rowe was instrumental for the Kingsmen and tallied five of his eight kills in the third. Once again, the Kingsmen were right there at the end, with the score tied 20-20, yet UC Santa Cruz pulled away late with five of the next seven points to clinch the sweep.
Gallardo led the way with 11 kills for CLU while Rowe notched eight. Nick Shoemate racked up 25 assists in the match and Jamal Balkhi logged a team-high eight digs. Campbell finished with a team-high of four total blocks.
The Banana Slugs were led by 12 kills from Jake Howard and 10 kills from Lake Merchen. Ryan McLaughlin tallied a game-high 31 assists while Cameron Bardeau finished with a game-high of nine digs.
Cal Lutheran (2-7) continues its home stand with a match against Hope International (9-5) this Thursday, Feb. 16 at 7:00 p.m. inside Gilbert Arena.
Box Score: UCSC 3, CLU 0
CLU Instagram: http://instagram.com/clusports#
M Volleyball Instagram: https://instagram.com/kingsmen_volleyball/
CLU Twitter: https://twitter.com/clusports
M Volleyball Twitter: https://twitter.com/CLUmVolleyball
CLU Facebook: https://www.facebook.com/clusports