Kingsmen Top Warriors for Second Straight Win
Shoemate tallies double-double in win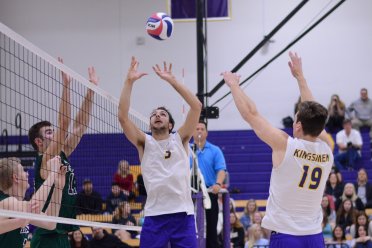 THOUSAND OAKS, Calif. – For the first time in its young program history, the Cal Lutheran men's volleyball team won its second straight match with a 3-1 (25-21, 25-17, 20-25, 25-22) victory over El Camino College on Friday night inside Gilbert Arena.
Fresh off a 3-0 sweep over Moorpark for their first win of the season, the Kingsmen stayed hot hitting .375 and .400, respectively, in the first two sets against the Warriors to take an early lead.
In the opening set with Patrick Rowe back to serve, CLU spurted out to a 6-0 advantage behind two Rowe aces. El Camino, however, responded with an 8-4 run to cut the Kingsmen lead to just two at 10-8. From there, Justin Dietrich, making his first start this season, slammed down a kill to send the Kingsmen on a 7-2 run to take back a commanding lead. The Warriors made another rally to bring the lead within one, 20-19, but a Nick Shoemate ace followed by a Patrick Rowe kill put the game away for CLU.
The second set featured an even more efficient hitting Kingsmen team that saw 10 of its 20 total attacks go down for kills, with just two errors, for a .400 hitting percentage. After trading points back and forth, the Kingsmen pulled away midway through the set behind strong play from Rowe and Mikey Esper. Within grasps of a 2-0 lead, Shoemate came through with another late service ace to take the set.
Looking to avoid the sweep, the Warriors came out and hit .357 as a team in the third set and capitalized on a handful of Kingsmen miscues including a match-low hitting percentage of .136.
In the fourth, however, the Violet and Gold went off for 19 kills in the set, while hitting .355 to clinch the game and the match. Michael Campbell and Kristian Gallardo each tallied four kills apiece in the final frame to help lead the Kingsmen to the victory.
Rowe finished with a team-high 13 kills while Dietrich also notched double-figures with 10. Shoemate reached a double-double on the night with a game-high of 42 assists and 11 digs. Campbell also had a strong night with nine kills and five total blocks.
Cesar Medina had a huge game for the Warriors, racking up a game-high 27 kills on 44 attacks, while Pedro Campos dished out 41 assists and had a team-high seven digs.
Cal Lutheran (2-6) will turn right around and take on No. 4 UC Santa Cruz (7-3) inside Gilbert Arena tomorrow, Feb. 11 at 4:00 p.m.
Box Score: CLU 3, ECC 1
CLU Instagram: http://instagram.com/clusports#
M Volleyball Instagram: https://instagram.com/kingsmen_volleyball/
CLU Twitter: https://twitter.com/clusports
M Volleyball Twitter: https://twitter.com/CLUmVolleyball
CLU Facebook: https://www.facebook.com/clusports