Kingsmen Participate in Pomona-Pitzer Invite
CLU competes against top competition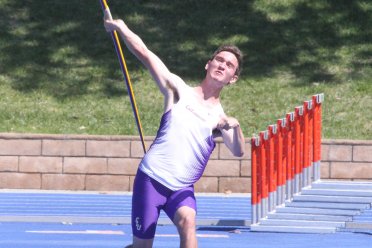 CLAREMONT, Calif. – The Cal Lutheran men's track and field team competed in the 31st Annual Pomona-Pitzer Track and Field Invitational on Saturday afternoon at Strehle Track.
Adam Silverman was the top Kingsmen finisher in the Shot Put with a mark of 11.35m while also leading the way in the Hammer at 39.95m. Also dominating in the throwing events for CLU was Ryan Fisher, who led the way in the Discus (37.19m) and Javelin (42.99m). Cody Jones was close behind in the Javelin with a mark of 41.89.
Dillon Brown led the Kingsmen in the Long Jump and Triple Jump, finishing with distances of 6.53m and 13.43m, respectively.
In the High Jump, Christian Brodnax cleared 1.75m and Jordan Wiley cleared 3.75m in the Pole Vault to pace the Violet and Gold.
On the track, Timmy Kahovec continued his dominance in the 800m with a time of 1:54.19 while Daniel Tustin finished the 1500m in 4:17.65.
In the sprints, Matt Leong finished as the fastest Kingsmen in the 100m with a time of 11.65, Dallas Knapp had the best time in the 200m (22.10) and Babatunde Awe completed the 400m in 58.73.
Cal Lutheran plays host to the SCIAC No. 3 Multi-Dual meet at Occidental next Saturday, Apr. 15 starting at 10:00 a.m.
Results: Pomona-Pitzer Invitational
CLU Instagram: http://instagram.com/clusports#
Track & Field Instagram: https://www.instagram.com/clu_track_field/
CLU Twitter: https://twitter.com/clusports
Track & Field Twitter: https://twitter.com/CLUTrackField
CLU Facebook: https://www.facebook.com/clusports