Division III Week Feature: Miguel Miguel
First generation college student makes most of experiences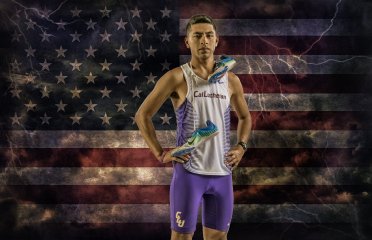 THOUSAND OAKS, Calif. – Miguel Miguel had the best of both worlds when he chose to attend a Division III school as he could further his education while pursuing his passion of running while becoming a first generation college student in his family.
"Coming into Cal Lutheran, I was scared of doing sports because I thought I would fail my classes if I dedicated all my time to sports," shared Miguel. "However, I quickly realized that Division III meant that no one was forcing me to run, but rather I was doing it because I loved running. I also loved that everyone in DIII was still just as competitive as if we were in a Division I league."
Other things frightened Miguel as well, and in a tight-knit environment he has been able to thrive in so many areas. Growing up as a large minority of the population in Van Nuys, Calif. he stepped out of his comfort zone in a big way, not knowing how his race/ethnicity would factor at Cal Lutheran.
"I was terrified, however, when I finally got settled in I realized that no one at CLU was concerned about race," he continued, "It was a place where everyone wanted to pursue their purpose while also being in a strong community."
Miguel was not only worried about the choice to pick a Division III school, but also how to steer through college. As the first person in his family to attend college he also had some uneasiness about the process in general, without even including running or other campus involvement into the mix of things.
"I didn't know how to navigate my way through school since I was a first generation student, but help was always offered at CLU whether in the form of an office or a random friend you meet that is more than willing to help you out," said Miguel.
When he is not studying for classes or at one of his cross country or track and field practices or competitions, he is also Resident Assistant on campus, is a part of undergraduate Paleontology research and serves as a geology department assistant at Cal Lutheran. These opportunities have made Miguel thankful for the college experience that the university was able to provide him.
"I developed communication, leadership, and professional skills that have opened up so many opportunities in my life," he said, "At first I never imagined myself to be in the position I am in now and it has been one of the best experiences being at CLU, because it's filled with a culture of wanting to succeed."
His accomplishments have come from a variety of areas on campus and he has achieved more than many students do during their collegiate careers.
"I was able to grow my connections and establish long lasting relationships with lots of people on campus and I have my sports, department and Res Life to thank for that." Additionally, Miguel said "Instead of just being another student who goes through four years of undergraduate education, I wanted to make an impact on the campus and I like to believe that through my involvement, I was able to do just that."
Miguel said that his commitment to his sport has made his time at Cal Lutheran more valuable since he can translate all that he has learned into his future career path.
"It was the dedication to my sport that made it easy to transfer that same dedication and passion into other aspects of my life," he added, "It is easy to be a student, but it is harder to take on the responsibility of a sport."
Miguel will never forget all that he has learned from his time here at Cal Lutheran. In fact, he said that the times of defeat are the times in which he endured the most triumph.
"I will always remember the moments that people told me I couldn't do something," shared Miguel. "It is easy for everyone to cheer you and tell you that anything is possible. However, it was the moments that I was told something was impossible that will forever stick with me." He finished, "I wanted to serve as a role model for other student-athletes and show that if we set our mind to what we want then there is nothing holding us back other than ourselves. Those moments were definitely the best, because now I can graduate knowing I gave my 100% effort not just in my sport, but in all aspects of my life."
During all of the struggles and successes he has faced as Cal Lutheran, he has learned life lessons from each positive and negative.
"Through the help of my professors, advisors and coaches I am now able to say I will be graduating with a bachelor's degree in geology and an unforgettable running experience all thanks to the helping community of CLU," a proud senior shared. "I found the help I needed and I will forever be grateful for the opportunities CLU has given me."
Website: Division III Week
CLU Twitter: https://twitter.com/clusports
CLU Facebook: https://www.facebook.com/clusports
CLU Instagram: http://instagram.com/clusports#
Hashtags: #ownthethrone, #clusports, #gokingsmen #goregals, #purplepit #whyD3 #NCAAD3 #D3week