Kingsmen Top Chapman and Whittier at SCIAC No. 2
Kahovec, Fisher win events for CLU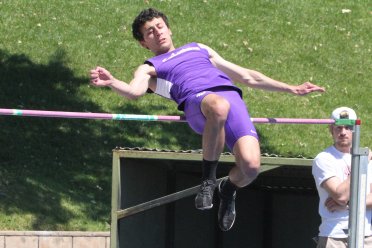 LOS ANGELES, Calif. – The Cal Lutheran men's track and field team competed in the Southern California Intercollegiate Athletic Conference (SCIAC) Multi-Dual No. 2 meet on Saturday and came away with wins over Chapman 103-23 and Whittier 93-52 while falling to Pomona-Pitzer 88-69.
Timmy Kahovec excelled for the Violet and Gold, winning the 800m in a time of 1:54.50, which is good for fifth all-time in CLU history. Kahovec also teamed up with Dallas Knapp, Christian Brodnax and Cameron James to help the 4x400m Relay to a second place finish with a time of 3:20.71.
The 4x100m Relay team consisting of Obasi Dees, Wendell O'Brien, Knapp and James tied for the sixth-best time in CLU history after clocking a 41.63 to place second.
Individually, Dees led the Kingsmen in the 100m (10.89) and 200m (22.34) by finishing in second and fifth, respectively. James was right behind Dees in the 100m with a time of 11.08 and finished just one one-hundredth of a second behind his teammate in the 200m.
Brodnax paced CLU in the 400m (49.59) with a fourth place finish while Knapp took fifth in 49.80.
Daniel Tustin and Christian Rider led the way in the distance events with Tustin turning in the top 1500m time of 4:20.73 for the Kingsmen while Rider ran to a ninth place finish in 16:37.81 in the 5000m.
In the throws, Ryan Fisher shined bright with a first place finish in the Hammer Throw (40.89m) to go along with third place finishes in the Javelin (43.14m) and Discus (37.82m). Adam Silverman also had a pair of strong finishes, placing fourth in the Shot Put (10.70m) and third in the Hammer with a mark of 34.18m.
Once again, Dillon Brown came through with top marks in a pair of jumping events. The sophomore from Ventura, Calif. placed third overall in the Triple Jump with a leap of 13.21m while taking fifth in the Long Jump (6.36m).
Nick Bedford finished fifth in the High Jump after clearing 1.72m while Jordan Wiley produced a fifth place finish of his own in the Pole Vault (3.65m).

Cal Lutheran (3-2 SCIAC) will compete next on Saturday, Apr. 8 at the Pomona-Pitzer Invitational beginning at 10:00 a.m.
Results: SCIAC No. 2
CLU Instagram: http://instagram.com/clusports#
Track & Field Instagram: https://www.instagram.com/clu_track_field/
CLU Twitter: https://twitter.com/clusports
Track & Field Twitter: https://twitter.com/CLUTrackField
CLU Facebook: https://www.facebook.com/clusports