Kingsmen Split Competition at SCIAC No. 1
CLU tops Caltech, falls to La Verne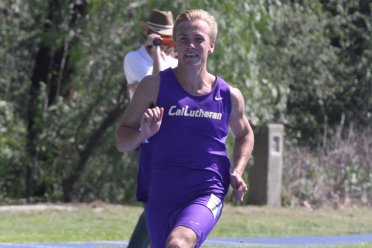 LA VERNE, Calif. – In the first Southern California Intercollegiate Athletic Conference (SCIAC) dual meet of the season, the Cal Lutheran men's track and field team defeated Caltech 102-43 while falling to La Verne 122-38 on Saturday afternoon at Ortmayer Stadium.
The Kingsmen had a handful of strong performances, led by distance runner Timmy Kahovec who won a pair of events coming in the 1500m (4:09.87) and the 800m (1:58.95). Daniel Tustin also finished with a top time of 4:18.05 in the 1500m for CLU.
One week after cracking the all-time Top-10 for CLU in the 3000m, Rigoberto Baza Carillo produced the top time of the day for the Kingsmen in the 5000m (17:09.74). Other top times on the track came from Christian Brodnax (51.07) and Dallas Knapp (51.36) who placed fourth and fifth, respectively, in the 400m.
In the sprints, Wendell O'Brien led CLU with a time of 11.22 to place third in the 100m while Daniel Medina finished the 200m in 23.27 to place seventh.
Brodnax also competed in the High Jump and cleared a height of 1.80m along with teammate Nick Bedford to tie for third overall. Jordan Wiley cleared 3.50m in the Pole Vault for a sixth place finish and Dillon Brown led the way in the Long Jump (6.36m). Jackson Cockrell rounded out the top Kingsmen in the jumps with a leap of 11.85m in the Triple Jump to place fourth.
In the throwing events, Ryan Fisher turned in a third place finish in the Discus (37.23m) while Adam Silverman was right behind him in fifth place (35.83m). Fisher and Silverman also finished near the top of the Hammer Throw competition with throws of 39.42m and 37.87m, respectively. Silverman also led the Violet and Gold in the Shot Put with a toss of 11.15m while Cody Jones led the way in the Javelin with a mark of 40.09m.

Cal Lutheran is back in action this Friday, Mar. 10 at the Occidental Distance Carnival/Spring Break Classic beginning at 11:00 a.m.
Results: SCIAC No. 1
CLU Instagram: http://instagram.com/clusports#
Track & Field Instagram: https://www.instagram.com/clu_track_field/
CLU Twitter: https://twitter.com/clusports
Track & Field Twitter: https://twitter.com/CLUTrackField
CLU Facebook: https://www.facebook.com/clusports