Kingsmen Compete at Rossi Relays
Baza Carillo moves into 3000m record books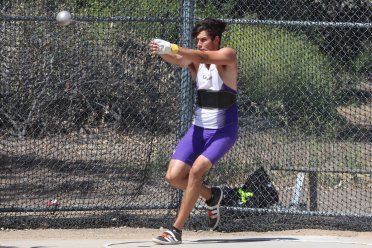 CLAREMONT, Calif. – After a lengthy time off due to inclement weather, the Cal Lutheran men's track and field team returned to action at the 20th Annual Rossi Relays hosted by Claremont-Mudd-Scripps at the Burns Track Complex on Saturday.
One of the top performances of the day came from Obasi Dees, who ran a blistering time 10.96 to place second overall in the 100m in his track and field debut. Fellow football transplant Wendell O'Brien also finished strong in the event with a time of 11.27.
Rigoberto Baza Carillo ran his way into the CLU record books with a time of 9:13.55 in the 3000m, good for eighth all-time in school history. Michael Miller ran a time of 9:24.26 in the event while Christian Rider (9:26.68) and Daniel Tustin (9:28.16) rounded out the top Kingsmen finishers.
In the jumps, Christian Brodnax came through with the top performance in the High Jump, clearing a height of 1.83m to finish sixth place while Nick Bedford cleared 1.73m to rank eighth. Matt Leong led CLU in the Long Jump with a leap of 6.05m.
Adam Silverman and Ryan Fisher paced the Violet and Gold in the throwing events with Silverman leading the Kingsmen in the Shot Put (11.73m) and Hammer Throw (39.61m) while Fisher led the way in the Javelin (40.46m) and Discus (36.43m). Fisher also threw 38.44m in the Hammer while Cody Jones was the second best finisher for CLU in the Javelin (38.33m).
Rounding out the top Kingsmen performances of the day was Jordan Wiley who placed 18th overall in the Pole Vault clearing a height of 3.51m.
Cal Lutheran will now begin Southern California Intercollegiate Athletic Conference (SCIAC) competition at the SCIAC Multi-Dual No. 1 meet this Saturday, Mar. 4 against La Verne and Caltech at La Verne.
Results: Rossi Relays
CLU Instagram: http://instagram.com/clusports#
Track & Field Instagram: https://www.instagram.com/clu_track_field/
CLU Twitter: https://twitter.com/clusports
Track & Field Twitter: https://twitter.com/CLUTrackField
CLU Facebook: https://www.facebook.com/clusports