Kingsmen Start Season at Sunshine Open
Seven Kingsmen make debuts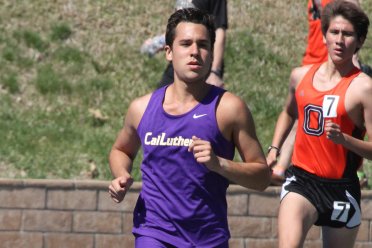 SANTA BARBARA, Calif. – The Cal Lutheran men's track and field team opened up the season on Saturday, competing in only distance events and High Jump at the Westmont Sunshine Open.
In the mile, Timmy Kahovec paced the Kingsmen with a time of 4:28.38 to place third overall in the event while Daniel Tustin finished sixth for CLU with a time of 4:38.58. Henry Friederichs (4:44.17), Miguel Miguel (4:47.08), Romelo Casanave (4:48.81) and Tyler Tvelia (4:58.28) rounded out the Kingsmen finishers in the event.
In the 3,000m, Rigoberto Baza Carillo led the Violet and Gold with a fourth place finish in 9:24.86. Michal Miller was close behind with a time of 9:26.28 to cross the line in fifth while Christian Rider clocked a 9:30.93 for sixth place. Zachary Sergey (9:42.87) also competed in the event along with Alex Johnston (10:00.15) and Connor Richter (12:27.41).
The third and only other event to feature Kingsmen was the High Jump where Christian Brodnax cleared 1.82m to take third place. Nick Bedford cleared 1.72m for a fourth place finish while Jeffrey Dizon and Jonas Boudreau cleared 1.67m and 1.62m, respectively.
Friederichs, Tvelia, Baza Carillo, Richter, Brodnax, Dizon and Boudreau all made their debuts for Kingsmen track and field.
Cal Lutheran is back in action on Saturday, Feb. 18 when it competes in the Pomona-Pitzer Collegiate All Comers meet starting at 10:30 a.m.
Results: Westmont Sunshine Open
CLU Instagram: http://instagram.com/clusports#
Track & Field Instagram: https://www.instagram.com/clu_track_field/
CLU Twitter: https://twitter.com/clusports
Track & Field Twitter: https://twitter.com/CLUTrackField