Kingsmen Revamp Roster for Spring Season
More than half of roster is newcomers for CLU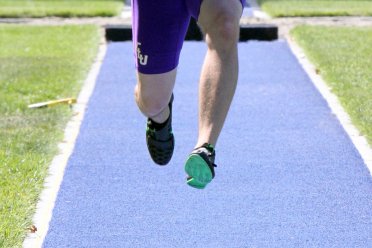 THOUSAND OAKS, Calif. – The Cal Lutheran men's track and field team features 18 newcomers while bringing back 16 student-athletes from a team that placed sixth in the Southern California Intercollegiate Athletic Conference (SCIAC) standings last season.
After sustaining a handful of injuries down the stretch last spring, the Kingsmen will look to stay healthy with a large group of freshman to mix with transfers and upperclassmen.
"Staying healthy is always a huge goal, especially in track and field," said head coach Matt Lea who enters his 10th season at the helm of the Kingsmen. "If we can stay healthy, and that's our big motto on the team, we'll be dangerous."
After graduating their lone NCAA qualifier and three-time Shot Put SCIAC Champion in Michael Bassette last season, the Kingsmen will turn to senior Cody Jones and junior Ryan Fisher to lead the throwing events. Jones recently represented the United States of America in the Paralympic Games held in Rio de Janeiro, Brazil and is currently ranked ninth in the world in the F38 category for Javelin. Fisher, meanwhile, led the Kingsmen in Discus last season and placed seventh at the SCIAC Championships with a throw of 44.25 meters.
Four-year senior Chris Aguilar returns along with junior dual-sport athlete Corey Lee and sophomores Daniel Medina and Peter Lee to compete in sprint events. Aguilar set a season-best time of 52.22 in the 400m at the SCIAC Championships and helped the 4x100 Relay, alongside Medina, to a sixth place finish.
Sophomores Dillon Brown and Nick Bedford also return after making an immediate impact in jumps as freshmen. Bedford cleared 1.72m in the High Jump to lead the Kingsmen at the SCIAC Championships while Brown was the top Kingsmen in the Triple Jump in 2016.


The majority of the returners will compete in the distance events, led by junior Timmy Kahovec who was the top finisher consistently for the Kingsmen cross country team this fall. At the SCIAC Championships last May, Kahovec qualified for the 800m Final and holds the sixth fastest time in CLU history in the event. Seniors Daniel Tustin and Miguel Miguel will also lead the group that consists of juniors Alex Johnston, Christian Rider, Zachary Sergey and sophomores Romelo Casanave and Michael Miller.
First-year Kingsmen looking to contribute right away are freshmen Babatunde Awe (Inglewood, Calif.), Rigoberto Baza Carillo (Chula Vista, Calif.), Chris Brodnax (Culver City, Calif.), Benedict Carandang (North Hills, Calif.), Jack Cockrell (Alta Loma, Calif.), Obasi Dees (Antioch, Calif.), Henry Friederichs (Walcott, Iowa), Cameron James (Richmond, Calif.), Matt Leong (Tigard, Ore.), Connor Richter (Simi Valley, Calif.), Adam Silverman (Lancaster, Calif.) and Tyler Tvelia (Lake Arrowhead, Calif.) and transfers Jonas Boudreau (Simi Valley, Calif.), Jeffrey Dizon (Lake Balboa, Calif.), Dallas Knapp (Orangevale, Calif.), Wendell O'Brien (LA Pierce College), Cory Phillips (Moorpark College) and Jordan Wiley (Fresno City College).
Baza Carillo, Friederichs and Tvelia competed for the Kingsmen cross country team in the fall while Dees, James and O'Brien suited up for the Violet and Gold on the gridiron.
Cal Lutheran opens its season this Saturday, Feb. 4 in Santa Barbara, Calif. at the Westmont Sunshine Open beginning at 11:00 a.m.
Roster: 2017 Kingsmen
Schedule: 2017 Men's Track & Field
CLU Instagram: http://instagram.com/clusports#
Track & Field Instagram:https://www.instagram.com/clu_track_field/
CLU Twitter: https://twitter.com/clusports
Track & Field Twitter: https://twitter.com/CLUTrackField
CLU Facebook: https://www.facebook.com/clusports