Kingsmen, Regals Honored with USTFCCCA All-Academic Awards
Trio of seniors earn individual recognition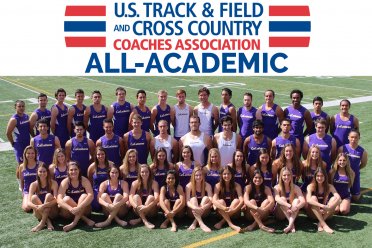 NEW ORLEANS, La. – Announced at the end of July, the Cal Lutheran men's and women's track and field teams were honored with United States Track and Field and Cross Country Coaches Association (USTFCCCA) All-Academic awards while a trio of senior student-athletes finished their respective careers with individual accolades as well.
The Kingsmen were one of 112 men's teams and the Regals were one of 175 teams to be honored by the Association for success in the classroom and competition venues in 2016. CLU teams earned grade point averages (GPAs) of 3.22 and 3.36, respectively, to surpass the necessary cumulative GPA of 3.10 by all members of the teams.
Overall, 293 men from 106 institutions, including Cal Lutheran's Michael Bassette, were honored individually. The senior thrower was recognized for the second straight year by meeting all requirements, which include having competed at the Division III Men's Outdoor Track & Field Championships or finishing the regular season ranked among the Top-35 in the nation in an individual event or ranked in the Top-25 for a relay on the official NCAA POP list provided to the TFRRS.org while maintaining a cumulative grade point average (GPA) of 3.30 or higher.
The Southern California Intercollegiate Athletic Conference (SCIAC) earned 15 selections from five different institutions for the men. Pomona-Pitzer led the way with five honorees, Claremont-Mudd-Scripps had four Stags recognized, La Verne finished three, Occidental had two and CLU rounded out the group with one selection.
Additionally, on the women's side CLU was represented for the third straight season by Allie Hadley and Amanda Hamilton as two of the 423 women from 129 institutions across the country who met the same requirements.
SCIAC earned 16 recognitions with eight Athenas representing Claremont-Mudd-Scripps to pace the conference. Redlands earned three selections, CLU and Pomona-Pitzer each had two honored and Occidental rounded things out with one.
The Massachusetts Institute of Technology (MIT) men's team finished with 15 selections, the most All-Academic honorees from across the nation, while the University of Chicago women had the most female recipients of any team with 19.
Release: USTFCCCA All-Academic Teams
Release: USTFCCCA All-Academic Individual Men
Release: USTFCCCA All-Academic Individual Women
CLU Instagram: http://instagram.com/clusports#
CLU Twitter: https://twitter.com/clusports
CLU Facebook: https://www.facebook.com/clusports