Bassette, Lundgren Named NSCA Athletes of the Year
CLU pair earns prestigious award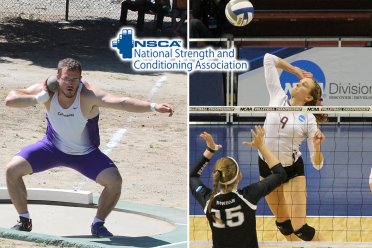 COLORADO SPRINGS, Colo. – Senior Michael Bassette and junior Monica Lundgren were recently named 2016 All-American Athletes of the Year as announced by the National Strength and Conditioning Association (NSCA) and EAS Sports Nutrition.

Student-athletes at both the collegiate and high school levels are recognized for athletic accomplishments and dedication to strength training and conditioning, as determined by the strength and conditioning coach at the given institution. Honorees are also selected based on academic and personal accomplishments as well as overall integrity as student-athletes.
This year, Bassette capped off a standout four-year career by qualifying a second straight season for the NCAA Division III National Championships in the Shot Put. Additionally, the Azusa, Calif. native claimed his third consecutive Southern California Intercollegiate Athletic Conference (SCIAC) Shot Put title and set a career-best in the event with a throw of 17.18m to rank second all-time in CLU history. Bassette also excelled academically, earning SCIAC Male Scholar Athlete of the Year honors and was inducted into the CLU Scholar-Athlete Society for a fourth time.
"Mike's progression over four years has been fun to watch," said Cal Lutheran's director of strength and conditioning Dr. Pat Holmberg. "He significantly improved his marks in every field event, most notably, the Shot Put. His dedication and work ethic should be shining examples to CLU student-athletes who also endeavor to compete at the highest level of Division III athletics."
Also honored was Lundgren, who enjoyed a breakout season as a junior and was a key component of the National Champion Regals volleyball team. The Encinitas, Calif. native earned Second Team All-SCIAC accolades after finishing second in the conference and eighth in CLU single-season history with a .356 hitting percentage, while totaling 112 blocks and 188 kills on the season. Lundgren brought an abundance of energy to the team and came through in clutch situations, including a career-high nine-block performance against Washington-St. Louis in the Thousand Oaks Regional Championship. An outstanding student as well, Lundgren earned SCIAC All-Academic honors and was inducted into the CLU Scholar-Athlete Society for the second time.
"Monica is truly deserving of the honor," said Holmberg. "Over her first two years, things didn't necessarily go her way, but she never stopped working; her passion and commitment to improve never waned. I am so proud of her; she represents what is special about Division III athletics and, in particular, Cal Lutheran student-athletes."
Past recipients of the honor include Amanda Hamilton, Arik Smith, Lauren Rohach, Chris Cabrera, Jackie Russell, Andrew Pankow, Bjorn McMillan, Sheyenne Machida, Rian Younker and Jessica Dingman.
The NSCA All-American Athlete of the Year program has been in existence for 38 years and is made possible by a grant from Power Systems, Inc., a Knoxville, Tenn. Fitness product leader.
CLU Twitter: https://twitter.com/clusports
CLU Facebook: https://www.facebook.com/clusports
CLU Instagram: http://instagram.com/clusports#
Hashtags: #ownthethrone, #clusports, #gokingsmen #goregals #purplepit