Kingsmen Doubles Team Wins ITA Event
CLU duo knocks off three CMS pairs to earn title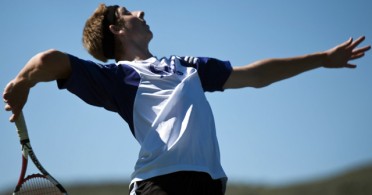 CLAREMONT, Calif. - Nicholas Ballou and Ray Worley needed to win five straight matches, including three over opponents from the same school, to claim the United States/Intercollegiate Tennis Association (USTA/ITA) Small College Regional Doubles title on Sunday.

Results: Men's Doubles Main Draw

Ballou and Worley earned the No. 5 seed overall and moved into the quarterfinals following comfortable 8-2 and 8-5 wins, respectively. The tandem then faced top seeded Zhenya Pereverzin and Brandon Wei of Claremont-Mudd-Scripps in the quarterfinals. In addition the Kingsmen would have to do it on the home court of the Stags whom hosted the event at the Biszantz Family Tennis Center.

The CMS pair was ranked No. 2 in the nation at the end of last year's ITA poll, but over the weekend the Kingsmen duo reigned victorious with an 8-3 win.

After cruising past the Stags pairing of Cameron Bernhardt and Nikolas Marino by an 8-1 margin, Alex Lane and Warren Wood were the last hope to avenge their teammates.

After playing supersets in the previous four matches it was a best of three sets format in the finals. Ballou and Worley took the first set and dominated the second defeating its third straight CMS opponent in as many matches by a 6-4, 6-1 result.