Kingsmen Claw Past Tigers
CLU wins first SCIAC match of spring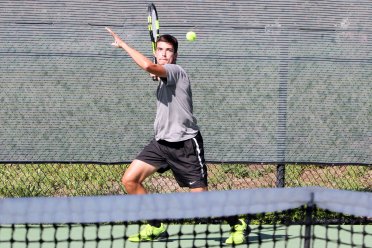 GLENDALE, Calif. – This morning at the Scholl Canyon Golf and Tennis Club, the Cal Lutheran men's tennis team earned its first Southern California Intercollegiate Athletic Conference (SCIAC) victory of the spring by defeating Occidental 7-2.
CLU took a quick 3-0 lead as No. 1, 2 and 3 doubles won in that order to build a significant advantage for the Violet and Gold. The pairs of Ransom Braaten and Dara Kashani and Lucas Tilly and Jake Haffner won by 8-6 margins on courts one and two, respectively, while Andrew Tufenkian and Michael Sulahian battled to a 9-8 win on the third court.
Once singles action got underway, Kashani won by default as his opponent on No. 1 retired after the Kingsmen junior earned a 6-4 first set victory. Needing just one more team point to clinch the match for Cal Lutheran, Tilly dug down and put things in the books with a 6-4, 6-0 win at No. 2.
Sulahian went on to win 6-3, 6-4 at No. 4 and Sebastian Ariza got a 6-2, 6-3 win at No. 5 to wrap up the team tally. Despite a loss at No. 3, Haffner forced a third set tiebreaker, falling 7-6 (5), 3-6, 10-7 in the end.
Cal Lutheran (5-14, 1-4 SCIAC) returns home for the final two matches of 2017 with the first scheduled for Saturday, April 14 against Claremont-Mudd-Scripps at 3:00 p.m. inside the Poulson Tennis Center.
Box Score: CLU 7, OXY 2 – box score unavailable at time of release
CLU Instagram: http://instagram.com/clusports#
M Tennis Instagram: http://instagram.com/kingsmen_tennis/
CLU Twitter: https://twitter.com/clusports
M Tennis Twitter: https://twitter.com/CLUmTennis
CLU Facebook: https://www.facebook.com/clusports
Hashtags: #clusports #ownthethrone #gokingsmen #d3t #theSCIAC