Bulldogs Quiet Kingsmen
CLU falls 9-0 to Redlands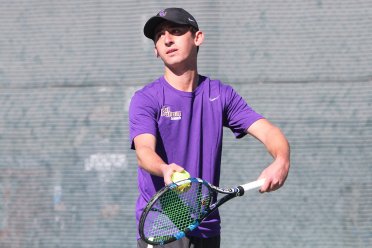 REDLANDS, Calif. – Playing in its first Southern California Intercollegiate Athletic Conference (SCIAC) match in nearly a month, the Cal Lutheran men's tennis team dropped a 9-0 decision to Redlands on the road on Saturday afternoon.
Redlands came out strong and swept the doubles portion of the match. Dara Kashani and Jake Haffner nearly gave CLU a point at No. 1 doubles, but ultimately fell in a close 9-7 match. Lucas Tilly and Austin Wong teamed up once again at No. 2, falling 8-1, while Mike Sulahian and Andrew Tufenkian dropped their match 8-5 at No. 3.
Redlands carried its momentum over into singles matches and swept all six courts for the shutout. Wong went into first set tiebreaker at No. 5 before falling 7-6 (6), 6-2 while Haffner nearly forced a third set tiebreaker after falling 7-5 in the second set at No. 3.
Cal Lutheran (4-14, 0-4 SCIAC) returns to the courts on Saturday, Apr. 8 at Occidental at 10:00 a.m.
Box Score: UR 9, CLU 0 – Box Score unavailable at time of release
CLU Instagram: http://instagram.com/clusports#
M Tennis Instagram: http://instagram.com/kingsmen_tennis/
CLU Twitter: https://twitter.com/clusports
M Tennis Twitter: https://twitter.com/CLUmTennis
CLU Facebook: https://www.facebook.com/clusports
Hashtags: #clusports #ownthethrone #gokingsmen #d3t #theSCIAC