Kingsmen Conclude Non-Conference Play
CLU falls to Depauw 7-2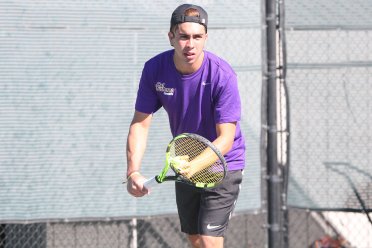 THOUSAND OAKS, Calif. – In its final non-conference match of the season, the Cal Lutheran men's tennis team dropped a 7-2 decision to visiting Depauw (Ind.) on Thursday afternoon at the Poulson Tennis Center.
The Kingsmen took an early 2-1 lead after rallying to steal two doubles matches. Trailing 5-4 at No. 1, the team of Dara Kashani and Ransom Braaten strung together four straight points to win 8-5 while Lucas Tilly and Jake Haffner cruised to an 8-3 win at No. 2. At No. 3, Andrew Tufenkian and Austin Wong battled to a narrow 8-6 defeat.
With a slight lead entering singles competition, the Kingsmen saw three different courts go into tiebreakers but unfortunately came up just short. After dropping the first set 6-3 at No. 5 singles, Wong rallied back for a 6-4 win before falling 6-3 in the third. Haffner was edged at No. 3 after taking the first set before getting clipped 7-6 (6) in the second and falling 10-5 in the tiebreaker. The first set at No. 2 also went into a tiebreaker between Tilly and Patrick Farrell, with Farrell coming out on top 7-6 (5), 6-2.
With all six singles wins, the Tigers clawed their way back from an early deficit to take the 7-2 win.
Cal Lutheran (4-13) returns to Southern California Intercollegiate Athletic Conference (SCIAC) play this Saturday, Apr. 1 at 10:00 a.m. at Redlands.
Box Score: DU 7, CLU 2
CLU Instagram: http://instagram.com/clusports#
M Tennis Instagram: http://instagram.com/kingsmen_tennis/
CLU Twitter: https://twitter.com/clusports
M Tennis Twitter: https://twitter.com/CLUmTennis
CLU Facebook: https://www.facebook.com/clusports
Hashtags: #clusports #ownthethrone #gokingsmen #d3t #theSCIAC