Kingsmen Challenged During Tropical Spring Break Trip
CLU defeats Carleton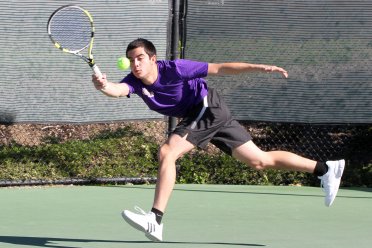 HILO, Hawai'i – A spring break trip to paradise for the Cal Lutheran men's tennis team was a successful and learning one as the Kingsmen went 1-3, defeating Carleton (Minn.) in a neutral site match before falling to a trio of Division II programs during the remainder of the trip.
CLU 6, CAR 3
The Violet and Gold opened spring break with a 6-3 victory over Division III Carleton in Kailua Kona, Hawaii at the Holua Tennis Center on Sunday. A doubles sweep was the deciding factor for the Kingsmen today. Andrew Tufenkian and Austin Wong teamed up at No. 3 to get the first CLU point of the day with an 8-6 victory. Lucas Tilly and Jake Haffner then earned an 8-5 win at No. 2 before Ransom Braaten and Dara Kashani battled to a 9-7 victory at No. 1 to complete the sweep and give CLU an early lead. Once singles action got underway, the top three men for Cal Lutheran earned wins with Braaten working to a 6-2, 7-6 (7) win, Kashani defeating his opponent 6-1, 6-4 and Tilly tearing his way to a 6-2, 6-3 win at courts one, two and three, respectively.
UHH 7, CLU 2
On Monday, Cal Lutheran faced Division II University of Hawai'i, Hilo at its campus courts, falling 7-2 to the Vulcans. Braaten continued his tear in singles play, defeating his highest ranked opponent of the spring with a 6-3, 7-6 (7) win over individually regionally ranked No. 5 Vaclay Slezak, handing the sophomore just his third loss of the season. Stepping in at No. 6 singles for the Kingsmen was Wongwho worked his way to a 6-4, 6-3 win over Ryuta Ogawa for the only other CLU point of the match. Additionally, Kashani played regionally ranked No. 19 Alex Fillat Perez to three sets, ultimately falling 6-1, 3-6, 1-0 (10-6).
BYUH 7, CLU 2
The third match of the trip took Cal Lutheran to Laie, Hawai'i where the Violet and Gold earned points at No. 1 doubles and No. 6 singles at the BYU-Hawaii Tennis Courts. Braaten and Kashani played to an 8-5 victory as a pair before Wong again notched a victory, defeating Tsu-Ping Kuang 6-4, 3-6, 1-0 (13-11) in a thrilling battle on the final court. Kashani and Tilly both played tiebreakers as well, both falling short 7-5 in the final set. Also, at No. 2 doubles., Tilly and Haffner challenged Guillermo Ucelay and Simon Guilin to a 9-8 (7-4) decision. Braaten retired from singles action.
HPU 8, CLU 1 – box score unavailable at time of release
To round out the week of play against top competition, CLU faced Division II No. 1 Hawai'i Pacific at the Kailua Racquet Club where the Sharks bit by the Kingsmen 8-1. Tufenkian earned his first collegiate singles win with a decisive 6-0, 6-1 victory at No. 6. The CLU lineup was shifted slightly as Braaten did not play. Kashani and Haffner teamed up at No. 1 doubles for the first time and Tilly played with Tufenkian at No. 2 while Mike Sulahian and Wong paired up at No. 3.
Cal Lutheran (3-12) returns to the mainland to continue non-conference competition for the remainder of March, playing Whitworth (Wash.) on Wednesday, March 29 at the Poulson Tennis Center beginning at 1:00 p.m.
CLU Instagram: http://instagram.com/clusports#
M Tennis Instagram: http://instagram.com/kingsmen_tennis/
CLU Twitter: https://twitter.com/clusports
M Tennis Twitter: https://twitter.com/CLUmTennis
CLU Facebook: https://www.facebook.com/clusports
Hashtags: #clusports #ownthethrone #gokingsmen #d3t #theSCIAC