Pirates Power Past Kingsmen
CLU falls to Texas school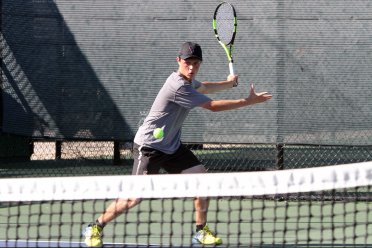 THOUSAND OAKS, Calif. – Less than 24 hours removed from a win over Schreiner (Texas), the Cal Lutheran men's tennis team was back on the courts facing another Texas team in Southwestern. The Pirates proved too much for the Kingsmen, as the host Violet and Gold fell 7-2 today at the Poulson Tennis Center.
Although the doubles teams challenged, Southwestern got a sweep. At No. 1 Ransom Braaten and Dara Kashani got the closest to earning a point for the team, but ultimately dropped an 8-5 decision.
Individually, five of the six courts played to tiebreakers, but the ball only bounced the Kingsmen way on two. Braaten got back to the win column with an exciting three-set thriller against ranked Nickoloz Snovely, winning 7-5, 4-6, 6-3 at No. 1 and Jake Haffner worked his way to a 6-1, 1-6, 7-5 victory at No. 4.
Sebastian Ariza nearly knocked off Austin Moninger at No. 6 and Lucas Tilly produced a similar outcome at court No. 3, though the pair was each edged 3-6, 6-1, 7-6 (10-3) and 4-6, 7-5, 1-0 (10-6), respectively.
Cal Lutheran (2-9) will travel to Hawaii over spring break to play four matches, three against Hawaii schools and one against Carleton (Minn.) on Sunday, March 19 in Kona.
Box Score: SU 7, CLU 2
CLU Instagram: http://instagram.com/clusports#
M Tennis Instagram: http://instagram.com/kingsmen_tennis/
CLU Twitter: https://twitter.com/clusports
M Tennis Twitter: https://twitter.com/CLUmTennis
CLU Facebook: https://www.facebook.com/clusports
Hashtags: #clusports #ownthethrone #gokingsmen #d3t #theSCIAC