Kashani Knocks Off Ranked Opponent
CLU falls to No. 27 Christopher Newport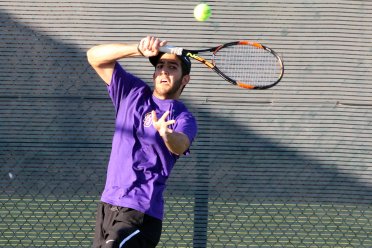 THOUSAND OAKS, Calif. – On a beautiful Tuesday afternoon, the Cal Lutheran men's tennis team hosted No. 27 Christopher Newport (Va.), challenging the Captains to a 6-3 defeat while Dara Kashani got a win over a ranked opponent at No. 2 singles.
To start the competition, the doubles match at court three went to CNU 8-6 despite being ahead 6-3 during play. The score on the second court was the same while the No. 1 pair of Kashani and Ransom Braaten worked to a 9-8 (5) win to steal the final point up for grabs in team action.
Once individual competition got underway, Braaten earned the second CLU point with a 6-4, 6-4 win at the first court while Kashani worked his way to a tiebreaker, winning 6-2, 3-6 (10-4) over No. 49 David Reed.
Cal Lutheran (1-8) returns to the Poulson Tennis Center on both Monday and Tuesday, Feb. 13 and 14 to host Texas teams with the first match set for 2:00 p.m. against Schreiner.
Box Score: CNU 6, CLU 3 – boxscore unavailable at time of release
CLU Instagram: http://instagram.com/clusports#
M Tennis Instagram: http://instagram.com/kingsmen_tennis/
CLU Twitter: https://twitter.com/clusports
M Tennis Twitter: https://twitter.com/CLUmTennis
CLU Facebook: https://www.facebook.com/clusports
Hashtags: #clusports #ownthethrone #gokingsmen