No. 21 Eagles Too Much for CLU
Kingsmen fall 7-2 to Mary Washington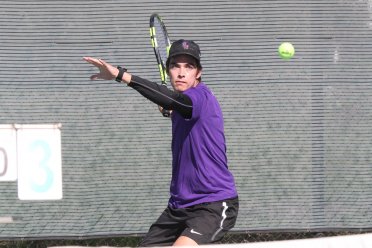 THOUSAND OAKS, Calif. – In non-conference action on Sunday afternoon, the Cal Lutheran men's tennis team went up against No. 21 Mary Washington (Va.) and fell 7-2 at Poulson Tennis Center.
After a two-hour delay due to rain, the doubles portion of the match got underway. Ransom Braaten and Dara Kashani picked up a quick 8-3 win at No. 1 doubles, but the Eagles responded with wins at No. 2 and No. 3 to take a 2-1 lead early on.
In singles competition, Braaten earned the lone victory for the Kingsmen at No. 1 with a competitive 6-4, 5-7, 10-3 over Brandon Griffin to continue his dominant play this season. Kashani battled to a 6-3, 6-2 defeat at No. 2 and Lucas Tilly fell 6-4, 6-1 at No. 3. Michael Sulahian nearly forced a third set tiebreaker before falling 6-3, 7-6 at No. 5 while Jake Haffner and Sebastian Ariza went down in straight sets at No. 4 and No. 6, respectively.
On Saturday afternoon in Southern California Intercollegiate Athletic Conference (SCIAC) action, the Kingsmen fell to Whittier 6-3. In that match, Tilly and Haffner provided the lone doubles win with an 8-4 decision at No. 2 while Kashani and Ariza earned the other points in the match with singles wins.
Cal Lutheran (1-7) continues non-conference action with a match against Christopher Newport (Va.) this Tuesday, Mar. 7 at 2:00 p.m. at Poulson Tennis Center.
Box Score: UMW 7, CLU 2
CLU Instagram: http://instagram.com/clusports#
M Tennis Instagram: http://instagram.com/kingsmen_tennis/
CLU Twitter: https://twitter.com/clusports
M Tennis Twitter: https://twitter.com/CLUmTennis