Kingsmen Split In Northern California
CLU falls in non-conference match, defeats community college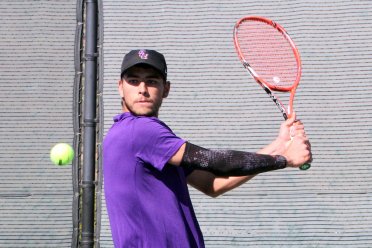 SANTA CRUZ, Calif. – A trip to Northern California for the Cal Lutheran men's tennis team proved to be a challenging and satisfying one as the Kingsmen dropped an 8-1 decision to UC Santa Cruz in non-conference action on Saturday before bouncing back with a 9-0 victory over Foothill Community College on Sunday morning.
UCSC def. CLU 8-1
Doubles play opened the day and although Ransom Braaten and Dara Kashani played tough at No. 1, the duo ultimately fell 9-7 after the teams on the second and third courts were outscored 8-1.
In singles play, Braaten earned the lone team point by playing to a dominating 6-1, 6-1 victory on the top court. At No. 3, after losing the first set 6-1, Lucas Tilly gritted down and forced extra play in the second set, falling 7-5 in the end. The No. 6 player for the Kingsmen, Austin Wong,challenged but fell 6-3, 6-2.
CLU def. FCC 9-0
The Kingsmen bounced back on Sunday with a straight sweep to lock up the first program win of the spring. Doubles gave the Violet and Gold a quick cushion as Braaten and Kashani and Wong and Sebastian Ariza both won 8-2 on courts one and three, respectively, while Tilly and Jake Haffner defeated their opponents by an 8-1 margin.
Once singles got started, the winning ways continued. Kashani led the pack, not losing a game, to post a 6-0, 6-0 victory on court No. 2. At No. 4, Haffner took down his competitor 6-0, 6-2, Braaten won 6-1, 6-3 at the first spot and Ariza earned a 6-2, 6-2 win. Tilly played a tougher match, though he went on to post a 6-4, 6-2 win at No. 3. Finally, Wong won by default.
Cal Lutheran (1-5) returns to Southern California to return to league action on the road on Saturday, March 4 at Whittier with a 10:0o a.m. first serve.
CLU Instagram: http://instagram.com/clusports#
M Tennis Instagram: http://instagram.com/kingsmen_tennis/
CLU Twitter: https://twitter.com/clusports
M Tennis Twitter: https://twitter.com/CLUmTennis
CLU Facebook: https://www.facebook.com/clusports
Hashtags: #clusports #ownthethrone #gokingsmen