Kingsmen Battle Beavers to Bitter End
CLU falls in second straight SCIAC match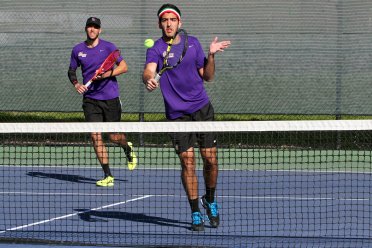 THOUSAND OAKS, Calif. – Although weather postponed the Cal Lutheran men's tennis match scheduled for Saturday, the Kingsmen were able to get the Southern California Intercollegiate Athletic Conference (SCIAC) match against Caltech in today, dropping a tough, hard-fought 5-4 decision to the Beavers.
CLU took a quick 2-1 lead after doubles as the top two pairs earned 8-5 wins. The first team point of the day went to the Violet and Gold when Lucas Tilly and Jake Haffner closed out Sathwick Pathireddy and Miha Valencic. Caltech promptly evened the teams with a win at No. 3. The decisive third doubles point came from Ransom Braaten and Dara Kashani who teamed up on court one to defeat Ruthwick Pathireddy and Derik Nguyen.
Once singles action got underway, Cal Lutheran added to its team tally as Haffner put away his opponent 7-5, 6-1 at No. 4 and Kashani won 7-6 (3), 6-1 at No. 2 to give the Kingsmen a 4-1 advantage. Caltech took the point from court one to cut its deficit in half.
The tides then turned as the Beavers battled back. The two squads split sets at No. 3, No. 5 and No. 6, but none of the CLU players were able to convert in the tiebreakers. Michael Sulahian was up a set and 5-0 at No. 5 while Tilly was ahead 3-1 in the third before losing 6-3 at No. 3.
Head coach Mike Gennette said after the match, "It was a great battle and has inspired the team to work even harder to flip the results over at the end of the season."
Kashani earned his first wins of the season in both singles and doubles and Tilly notched his first doubles victory today. Additionally, Braaten and Haffner each recorded his first doubles win for CLU today.
Cal Lutheran (0-4, 0-2 SCIAC) heads north to play the Banana Slugs from UC Santa Cruz on Saturday, Feb. 25 at 10:00 a.m.
Box Score: CIT 5, CLU 4
CLU Instagram: http://instagram.com/clusports#
M Tennis Instagram: http://instagram.com/kingsmen_tennis/
CLU Twitter: https://twitter.com/clusports
M Tennis Twitter: https://twitter.com/CLUmTennis
CLU Facebook: https://www.facebook.com/clusports
Hashtags: #clusports #ownthethrone #gokingsmen