Kingsmen Fall to Sagehens in SCIAC Opener
No. 9 Pomona-Pitzer too much for CLU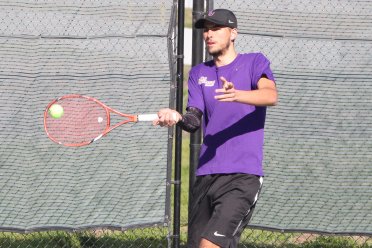 THOUSAND OAKS, Calif. – The Cal Lutheran men's tennis team began Southern California Intercollegiate Athletic Conference (SCIAC) action on Saturday afternoon as they welcomed No. 9 Pomona-Pitzer to the Poulson Tennis Center where they fell 9-0 at the hands of the Sagehens.
The No. 2 ranked team in the West Region jumped out to a 3-0 lead after sweeping the doubles portion of the match. At No. 1 doubles, Ransom Braaten and Dara Kashani nearly stole a point for the Kingsmen before falling 9-8 in a tightly contested match. The pairing of Lucas Tilly and Jake Haffner fell 8-6 at No. 2 doubles while Michael Sulahian and Andrew Tufenkian dropped an 8-4 decision at No. 3.
In singles action, Kashani nearly pulled off a win at No. 2 rallying for a 7-5 win in the second set to force a tie breaker before falling 10-8 in the deciding set. At No. 3, Tilly started strong against Marko Mandic by taking the first set before eventually succumbing to a 4-6, 6-1, 10-6 defeat. All other Kingsmen went down in straight sets to the Sagehens.
Cal Lutheran (0-3, 0-1 SCIAC) continues SCIAC play with a match against Caltech next Saturday, Feb. 18 at 10:00 a.m. at Poulson Tennis Center.
Box Score: PP 9, CLU 0
CLU Instagram: http://instagram.com/clusports#
M Tennis Instagram: http://instagram.com/kingsmen_tennis/
CLU Twitter: https://twitter.com/clusports
M Tennis Twitter: https://twitter.com/CLUmTennis
CLU Facebook: https://www.facebook.com/clusports
Hashtags: #clusports #ownthethrone #gokingsmen