Kingsmen Open Season
CLU drops two to community colleges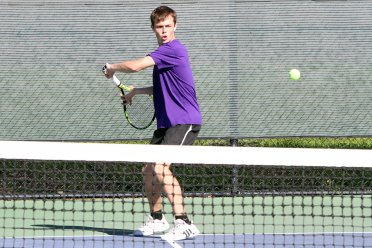 THOUSAND OAKS, Calif. – Opening day for the Cal Lutheran men's tennis team was a long one as the Kingsmen suited up for two matches, dropping both. The first was an 8-1 loss to Cerritos Community College and the second was a 6-3 decision against Cypress Community College.
After just a week of practicing together, the challenging competition helped the Kingsmen learn and grow. Four players, including Sebastian Ariza, Ransom Braaten, Jake Haffner and Austin Wong, suited up in Violet and Gold for the first time.
Cerritos took a quick 3-0 lead after doubles action and cruised to the final. At No. 1 doubles, Braaten and Dara Kashani paired up for the first time, falling 8-5. At No. 2, Haffner and Lucas Tilly produced the closest match at 8-6 and No. 3 between Ariza and Wong and the Cerritos pair went to 8-4.
Once individual play got underway, Braaten helped CLU avoid a clean sweep by playing to a 6-0, 7-5 victory at No. 2 singles to mark his first CLU win. Both Haffner at No. 4 and Ariza at No. 6 played tiebreakers, but each fell just short in his debut.
In the afternoon, Cal Lutheran got out to a quick doubles point when Sulahian and Andrew Tufenkian teamed up at No. 3 where the pair defeated Cypress 8-2.
Later on in the match, during individual play, Haffner locked up his first collegiate victory, defeating his opponent on court four 2-6, 7-6 (3), 10-5 in a close battle. At No. 3, Tilly also earned a hard-fought 7-6 (4), 7-5 win to open his junior campaign.
Cal Lutheran (0-2) jumps right into Southern California Intercollegiate Athletic Conference (SCIAC) when it returns to the courts on Saturday, Feb. 11 as the Kingsmen welcome Pomona-Pitzer to the Poulson Tennis Center for a 10:00 a.m. first serve.
Box Score: Cerritos 8, CLU 1
Box Score: Cypress 6, CLU 3
CLU Instagram: http://instagram.com/clusports#
M Tennis Instagram: http://instagram.com/kingsmen_tennis/
CLU Twitter: https://twitter.com/clusports
M Tennis Twitter: https://twitter.com/CLUmTennis
CLU Facebook: https://www.facebook.com/clusports
Hashtags: #clusports #ownthethrone #gokingsmen