Kingsmen Compete at ITA West Regionals
Tilly, Haffner upset No. 1 doubles team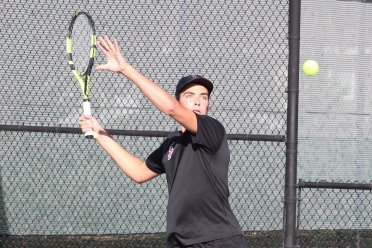 CLAREMONT, Calif. – At the 2016 Intercollegiate Tennis Association (ITA) Division III West Regional Championships last weekend, the Cal Lutheran men's tennis team sent five Kingsmen to compete, including four that made their CLU debut.
Lone returner Lucas Tilly paired with freshman Jake Haffner to upset the No. 1 seed in doubles, pulling off an 8-4 upset over Jake Ly and Joey Dulle from Redlands in the Round of 64. The pair rode the momentum to a close 9-8 (2) win in the Round of 32 before falling 8-6 in the Round of 16 to the No. 5 seed.
Also competing in doubles action were Chris Hagler and Ransom Braaten.
Individually, Hagler won his opening match in the Round of 64, defeating William Poma by a score of 6-2, 6-2 and Braaten won his first match as well, recording a 3-6, 7-6 (4), 6-2 come-from-behind victory to upset the No. 9 seed Jake Berber.
Tad Kasai also competed in the Consolation Round for the Kingsmen.

Hagler, Haffner, Braaten and Kasai all made their CLU debuts at the tournament.
Results: ITA West Regional
CLU Instagram: http://instagram.com/clusports#
CLU Twitter: https://twitter.com/clusports
CLU Facebook: https://www.facebook.com/clusports