Kingsmen
Swimming & Diving
Jordan to Represent USA in Swimming at Paralympics in London
CLU senior to compete on global stage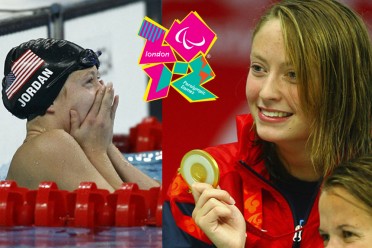 THOUSAND OAKS, Calif. – Cortney Jordan was born with cerebral palsy. Her disability did not slow her down, instead it motivated her. A competitive swimmer since age seven, the incoming Cal Lutheran senior will represent Team USA at the 2012 Paralympic Games in London, England between August 29 and Sept. 9.
Complications at birth left Jordan with cerebral palsy. Because of a shorter, weaker left side, she walks with a limp and has endured severe back pain as well as other physical problems throughout her life. As a child, she worked with a physical therapist who, thankfully, recommended that Jordan try swimming to serve as a way to develop and refine fine motor skills.
With that first dive into the water, an undying love was born.
"Part of the reason I loved swimming so much then and still do now is that I am not in pain in the water; Well it is a different kind of pain," she laughed.
Jordan knew she was different because of a physical condition, but she also knew she loved to swim. When she was seven years old she was part of her first club team.
The downfall and most difficult part of Jordan's journey began with that realization that she could not compete against able-bodied swimmers. She was discouraged by constantly finishing last at meets.
That all changed in 2004 when she was 13 and competed in a small meet in San Diego. Not only was it her first Paralympic event, but it was the first time she ever won a race.
After the meet she met one of the most special people in her path to competing on an international stage.
"One of the Paralympians there, Michael DeMarco, told me that I was really good and that I should look into going to Nationals," she remembered.
From that moment on, she knew she had found her niche. The Paralympics gave her an opportunity to compete against athletes with similar disabilities. It also afforded her the chance to meet amazing athletes from all over the world who had also overcome adversity.
"Getting involved with the Paralympics made me stop thinking about what I don't have and made me grateful for the abilities I do have," she said. "I am now thankful for my disability because it has made me the person that I am today."
For the next two years swimming remained her focus.
In July of 2006, as a 15 year old, Jordan qualified for US Nationals and after her first race at that meet she was ranked second in the world in the 400 freestyle.
Nationals served as the qualifying meet for the World Championships in Durban, South Africa. Her performance that day in the summer of '06 landed her on the US Team. In South Africa, donning the stars and stripes for the first time, she went on to win a trio of bronze medals in the 50, 100 and 400 free.
A tenacious worker, Jordan wasted no time after Worlds to start training for the Paralympics in Beijing.
In September of 2008 she again swam for Team USA, competing in six races. Jordan returned home with four medals, including a gold in the 50 free, silver in the 100 and 400 free and bronze in the 200 Individual Medley (IM).
Immediately following the experience in Beijing, Jordan had already shifted her focus to London.
"Beijing was an absolutely incredible experience and I knew I would do whatever it took to make it to London."
There was one slight glitch in Jordan's future athletic plans.
"Since I was in first grade, I knew I wanted to become an elementary school teacher," Jordan went on, "I didn't want to put that dream on hold while I trained for London."
At the young age of 18 she was able to put her life in perspective. She knew she wanted to go to college and looked at schools that would afford her the opportunity to swim and participate on the team while also offering strong academic programs.
She chose Cal Lutheran and enrolled in classes in September of 2009. She quickly integrated herself into the academic demands of the college environment, while remaining focused on swimming, both for Cal Lutheran and the USA.
At the start of her intercollegiate career, Jordan took a short hiatus from the Regals to again represent the US on an international stage. Just a week before finals of her freshman year she traveled more than 6,000 miles to compete at the 2009 World Championships in Brazil.
It was worth the trip as the swimmer came home with six silver medals in the 50 free, 100 free, 400 free, 100 backstroke, 200 IM, and the 4x100 relay.
Upon her return she concluded the 2009-10 CLU season. She swims a little bit of everything for the Regals, including the 50 free, 200 free, 500 free and 200 butterfly. Her work ethic was, and still is, second to none.
"Cortney is so focused that I have to make her stop in the pool to get the rest that she needs. She always wants me to get to the point quickly so I will not waste any training time," head coach Tom Dodd said. "She is also the type of person who makes herself complete the task presented to her, even when for a moment she may second guess her ability to do what you asked. Cortney will achieve it, briefly celebrate that she did it, and then push on to the next assignment that she was not supposed to be able to do."
She has balanced everything in her life and continues to juggle her studies and swimming.
The 2010 World Championships were in the Netherlands. She won two gold medals in the 4x100 free relay and 4x100 medley relay, a silver in the 50 free, and three bronze in the 100 IM, 200 IM and 400 free.
Come the London games, she will step on the blocks in six different events (50 free, 100 free, 400 free, 100 back, 100 breaststroke and 200 IM) between the first and eighth day of competition. But, before traveling to England she will train in Germany for a week beginning on Aug. 15. The team will then move into the Olympic Village for the Opening Ceremonies on Aug. 29.
A veteran, Jordan has been a part of Team USA for six years. She knows the majority of the 34-athlete men's and women's combined teams. The women return eight athletes with 12 new faces while the men have 10 returning swimmers with four new athletes.
"Each person on the team has a fantastic story and has inspired me in some way. I am a better person for knowing them and I can't put into words how honored I am to be on a team with them."
Not only is she excited to compete with some of her best friends, but she is especially looking forward to representing the USA again.
"There is no better feeling than representing your country."
When she is done swimming for gold, she will return to Thousand Oaks to complete her degree and collegiate swimming career.
"I really feel blessed to be able to swim for CLU on a wonderful team."