Kingsmen
Swimming & Diving
CLU Welcome Largest Scholar-Athlete Society Class at 14th Annual Induction
Student-athletes honored for academic achievements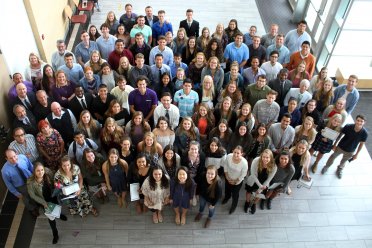 THOUSAND OAKS, Calif. – On Saturday, May 6 inside of the Gilbert Arena, the Fourteenth Annual Scholar-Athlete Society Induction took place as 176 student-athletes, the largest group in the history of the event, were honored for academic accomplishments after the day-to-day emphasis is shined on athletics during the year.
In 2003, Elaine Benditson inspired the concept and the Cal Lutheran Scholar-Athlete Society was created to acknowledge the academic achievements of CLU athletes. The institution believes it is important to give special emphasis to those students who are competing rigorously to achieve excellence in the classroom and in their chosen sport. The Kingsmen and Regals honored during the ceremony have each proven to bring equal dedication and discipline to both the classroom and chosen fields of play.
Boasting a 3.40 or higher cumulative grade point average during the academic year, the 2017 induction class was the largest in the 14-year history of the society after the inaugural class had 36 inductees.
Today, among the 176 student-athletes, there were 13 four-year inductees, 23 third year, 47 second year and 93 first-time honorees. Additionally, there were 14 dual-sport recipients in 2016-17.
Of the student-athletes who participated in 2016-17, 62% (331 of 536) earned a cumulative grade point average (GPA) of 3.0 or higher. Nearly 35% (179) produced a 3.5 or higher GPA and 23 student-athletes earned a perfect 4.0 GPA in the fall semester. The total GPA for all CLU sports teams this year in the fall was 3.20. Offering 21 intercollegiate sports, 15 of those teams produced higher team GPAs in the fall of 2015 than in the fall of 2016. Overall, 18 teams (86%), had a 3.0 or higher team semester GPA.
Following the annual presentation of certificates and gifts to those inducted, the Male and Female SCIAC Scholar Athlete of the Year, as chosen by the CLU Faculty Athletic Policies Committee, Cody Jones and Sarah Pappas, each stepped up to the microphone to say a few words.
Jones, a marketing communication and psychology major, has been a four-year member of the track and field team and an integral part of the Cal Lutheran community. Recently named the Dixon Farmer Character Award recipient, a Javelin thrower from Moorpark, Calif. shared his non-traditional story by taking us back to his childhood.
Born with cerebral palsy, Jones grew up playing and loving baseball. He shared how he stepped out of his comfort zone to try out for a new team and, not knowing his background of both throwing and catching with his right hand, someone commented on him having the wrong glove. Throughout that all, he had his family and supporters behind him encouraging him, saying, "Go Cody, you're awesome, you got this, keep going."
Well, those words resonated with the soon-to-be-graduate who transitioned from baseball to javelin in college, never having competed in track and field before. After approaching head coach Matt Lea, to ask if he would be able to compete for the Kingsmen, the ninth-year coach welcomed him with open arms.
During his time at CLU, Jones has been embraced by numerous groups and the encouraging words he had heard all his life trickled over to the new challenge that also granted him the opportunity to explore and experience the world first hand. Not only did Jones learn Javelin techniques, but he became classified as an F38 Paralympic athlete and has represented Cal Lutheran as well as the United States of America internationally at the 2015 Paralympic World Games in Doha, Qatar and the 2016 Rio Paralympics. He is a two-time National Champion and in his final collegiate meet, he hurled the implement a career-best 46.50m, which currently ranks him third in the world.
Addressing the nearly 300 people in attendance today, he said, "My story is unique, but at the same time is it not. Athletes in this room know what it is like to work hard at your sport. Being a scholar-athlete is not easy, so own it and congratulate yourself, but don't let it get to your head." He finished, "None of us are alone; we are all meant to be here today because we worked hard for it. You are now part of the Scholar-Athlete society, so be proud of it."
Pappas is an exercise science major with an emphasis in health professions who has had a plethora of success on the volleyball court and in the classroom and will pursue a career in nursing. Individually, a three-time AVCA Honorable Mention All-America, three-time AVCA All-West Region honoree and three-time First Team All-SCIAC, Pappas led the Regals to four consecutive SCIAC titles, three straight SCIAC Postseason Tournament titles, two Regional Champions, two NCAA National qualifications and the 2015 NCAA Division III National title.
One of the hardest working student-athletes to come through Cal Lutheran, the Reno, Nevada native is always up to be challenged in all facets of life and on the court always chose to do one more drill all the while excelling academically.
When she took the microphone she said, "It is no easy task to maintain a 3.4 GPA, but it is why we chose Division III." Being a student-athlete is something she embraced from the start, giving 100 percent to the volleyball program and school, but she has thoroughly enjoyed her final semester as well.
"I refer to myself as a NARP now, a non-athlete real person, and I have realized just how much time I dedicated to my sport during my career because I have enjoyed the extra sleep and time to do things other than volleyball," she went on, "It was a balancing act every week with class, labs, lifting sessions, games and studying, but I learned time management skills and how to avoid procrastination (confirming that is a thing)."
Pappas, Jones and all the other honorees today have learned to multi-task, prioritize and most importantly enjoy the experiences each has been afforded as part of CLU athletics.
Cal Lutheran attracts students from all walks of life and areas of the world. Its diversity is unique and the passion that each and every student possesses is special. For many, one of those passions is sport, in turn producing amazing student-athletes for the Kingsmen and Regals year in and year out.
Release: 2017 Induction Class
CLU Twitter: https://twitter.com/clusports
CLU Facebook: https://www.facebook.com/clusports
CLU Instagram: http://instagram.com/clusports#
Hashtags: #ownthethrone, #clusports, #gokingsmen #goregals